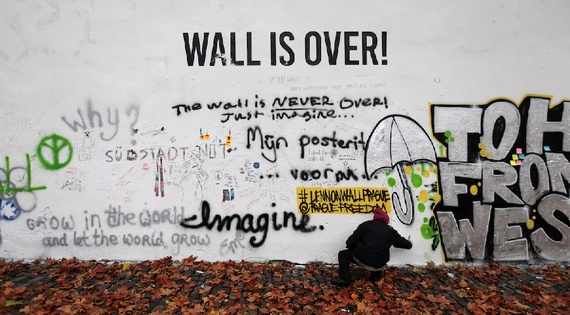 I am not sure if you are aware of the cruel fact that the  historic Lennon Wall in Prague is simply GONE. In order for you to understand why I capitalized those words, let me tell you a little bit of background info.
After John Lennon was assasianted in 1980, an unnamed artist painted a beatiful portrait of Lennon along with some of the Beattles lyrics. Of course, this was during a deep Communism, so Western images were strictly forbidden. The painting got quickly covered by some posters by the Czech police like nothing ever happened. Well, for some reason, John Lennon did never go away and became a symbol of freedom. Every time the Communist covered him someone would come back in the middle of the deep night and painted yet another image of John. And it would be like this until 1989 when the Velvet Revolution broke through the totalitarian regime. Thereafter the John Lennon Wall became not only the symbol of freedom but a new favorite tourist spot. Every time you read one of those 'Top 10 places to visit in Prague', the Wall was bound to be one of them.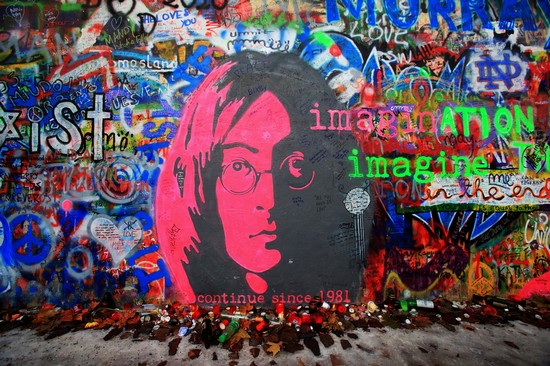 On November 17th of last year a group of students from FAMU (University for Film Arts) decided to make an art stand and painted the wall completely white with 3 sole words printed in black: "WALL IS OVER". After a mostly negative (somethimes very angry) response from the crowds and after being labeled as 'vandals', the FAMU students explained their resoning behind this strange act:
"Twenty-five years ago, one big totalitarian wall fell … Students of art schools are expressing their commemoration of (1989) and opening room for new messages of the current generation."
Hmm…..I am not sure how I feel about this. I mean these 18 year old kids were born like in 1996 which is only like 3 years ago in my mind ;). Do they really understand and get the whole political/historical era? Do they have the right to do this? What do you think??

CZ: Nevim, jestli jsem ta z poslednich, ale pouze nedavno jsem se dozvedela, ze Lenonova stena u Male Strany uz proste neni! Nejaci studenti z FAMU se rozhodli stenu premalovat na bilo a nechali tam jen 3 osamela slova: "WALL IS OVER". Jejich prapodivny akt byl vysvetlen tim, ze pred 25-ti lety spadla zed Berlinska, ale je jina doba; doba na nove umeni.
Maji nejaci 18ti leti prcci pravo na to, aby smazali neco tak vyznamneho? Jsou dostatecne stari, aby vubec pochopili, co provedli?
If you liked this post buy me a coffee! (Suggested:$3 a latte $8 for a pound) Thanks!