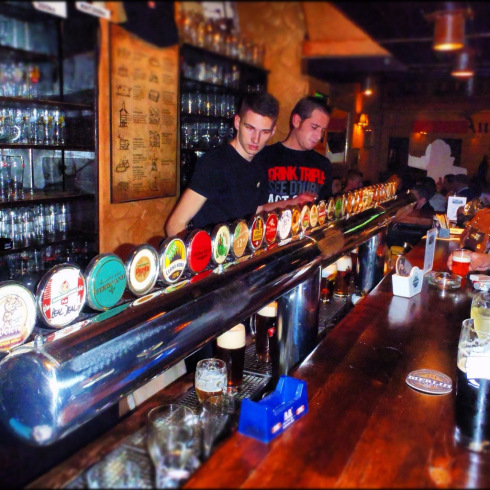 If you have some up-coming nuptials with the love of your life, you'll be looking to have one last weekend without a ball and chain with your friends to celebrate. Prague is renowned for its culture, tourism and best of all, nightlife making it the perfect place to enjoy a European city break. The Czech capital has been the epicentre of Central Europe for over a thousand years, becoming steeped in both political and economic history.
Prague is home to some of the best bars within the Czech Republic, with one of the more popular being the Absintherie. The venue is a specialist in the strong alcoholic spirit absinthe (my husband's favorite), offer visitors a wide variety of drinks ranging from different countries around Europe. Served in a glass with dry ice, absinthe has a very high percentage rating, so it is best enjoyed responsibly if drinking it straight. However, the bartenders are more than welcoming, offering patrons a range of absinthe based cocktails to whet their appetite.
But if it is something a little more subtle you are looking to drink, the Prague Beer Museum is a must visit for anyone who is a fan of their ales. The Czech Republic is famed for its great tasting beers, so the museum is a great collaboration with the city's true roots. With a spread of 30 beers and a handful of ciders, visitors can try small glasses of the ales to get a taste of which they would prefer before committing to a full pint.
Prague has plenty of other fantastic bars, but if you are looking to try something a little more upmarket and different during your stay, why not check out one of the local casinos. Open 24 hours a day, the Ambassador Casino is set in one of the grandest pieces of architecture seen in the casino industry. The gaming rooms are occupied with a more affluent clientele, so be prepared to dress more sophisticated than usual and if you don't want them to take all your winnings, make sure to practice for free at Gaming Club. With the likes of Pontoon, Roulette and Texas Hold'em on offer, as well as 100's of slot machines, there is plenty to keep all gamers happy.
If you liked this post buy me a coffee! (Suggested:$3 a latte $8 for a pound) Thanks!