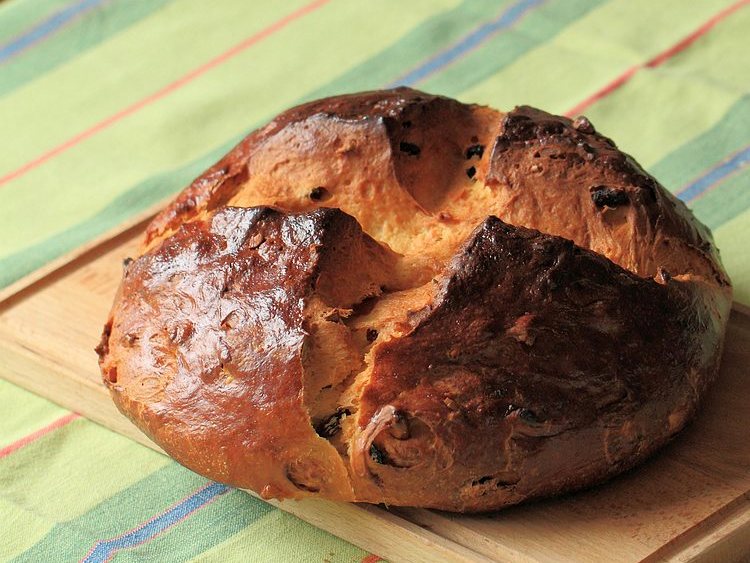 Among other things the Czechs and Slovaks celebrate Easter by making a sweet bread called Mazanec.  The dough is practically the same as the one for Vanocka (which is baked for Christmas) but the shape is different and the meaning is different.
When you are just about to put your Mazanec in the oven, you make a cross on the top (cutting it with scissors) to commemorate the death and the resurrection of Jesus.
The best recipe I found is at the EasternEuropeanfood.com website. No metrics, just cups :). If you noticed the author uses 5 and 1/2 cups of flour (!!) which makes for a BIG loaf so I ended up making my loaf just half the size. Also, since mine also tends to get quite flat in the oven I cheated and used the deep glass baking pan. It turned out great! Except in my household it seems like I am the only one who will be eating it for the rest of the week. They just don't have  any appreciation for the Czech art of baking :(.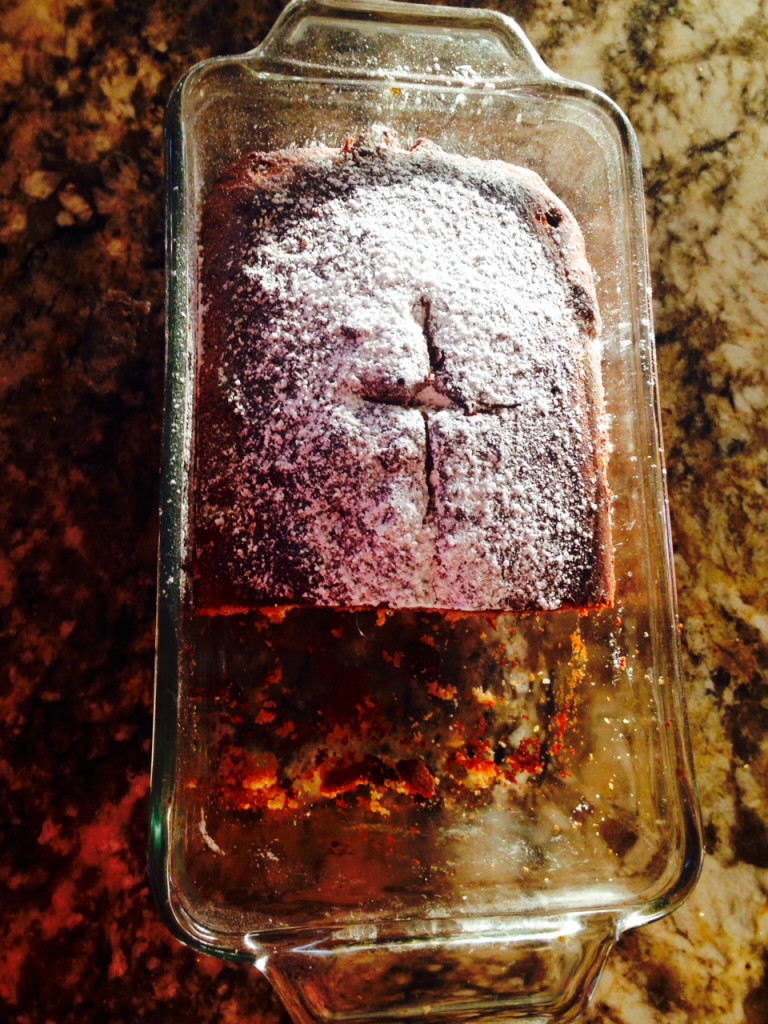 CZ: Pecete tyto velikonoce Mazanec? Ja to opet zkusila, ale tentokrat jsem byla chytrejsi. Misto toho, abych skoncila s tvrdou plackou jako obvykle, tak jsem testo  nechala vykynout v hluboke sklenene panvicce a bochanek se povedl mnohem lepe! Tedy alespon me chutna, zbytek rodiny nad tim spis ohrnuje nos :(. No jo, co se da delat, zase je to vsechno na me. I ty tri kyla co priberu :).
– taken from EasternEuropeanfood.about.com
Ingredients:
1 cup of warm milk
1/2 cup (1 stick) butter
1 cup sugar (or less, to taste)
1/2 teaspoon salt
2 packages active dry yeast
1/4 cup warm water
2 large room-temperature eggs, beaten
5 1/2 cups all-purpose flour
1/2 cup golden or dark raisins
1/2 cup blanched sliced almonds
Topping:
1 large room-temperature egg, beaten
2 tablespoons blanched sliced almonds
Confectioners' sugar (optional)
Method:
1. Add butter, sugar and salt to scalded milk. Stir to combine and let cool to lukewarm.
2. Place yeast and warm water in the bowl of a stand mixer and, with the paddle attachment, stir until dissolved. Add lukewarm milk mixture and 2 eggs and combine.
3. Add 3 cups flour and beat with the paddle until smooth. Add the raisins, almonds, citron, and remaining flour and mix, 3 to 5 minutes until smooth. Dough will be sticky.
4. Place dough in greased bowl. Turn over and cover with plastic wrap and let rise until double, about 1 hour. See this Quick Tip for faster rising.
5. Punch down dough and turn out onto lightly floured board. Knead a few minutes and shape into 1 round loaf. Place on a parchment-lined baking sheet, cover with greased plastic wrap and let rise until doubled.
6. Heat oven to 400 degrees. Brush loaf with 1 beaten egg. With scissors, cut a cross in the top of the bread and sprinkle surface with almonds. Bake 15 minutes, reduce heat to 375 degrees and bake an additional 30-45 minutes or until instant-read thermometer registers 190 degrees. Let cool completely.
There is still time to make it!!!!
If you liked this post buy me a coffee! (Suggested:$3 a latte $8 for a pound) Thanks!