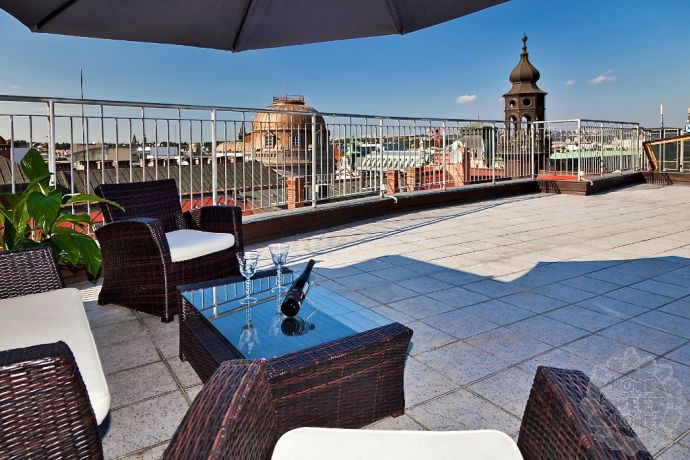 I always think about when our whole family goes back to Czech (4 people) – where will we stay? My mom's and my dad's place is too small so we would have to rent out a flat. I looked around and found a very reasonable priced agency called
Home Sweet Home,
which offers not only apartments all over the Czech Republic but also cottages for rent :)).
Expats can use a short-term accommodations as well as long term ones. I know that some retired Czechs and Slovaks live a half a year in the US and the other half in Czech so this would be perfect for them.
What I find very enticing is that you can
rent flats in Prague,
located in a dead city centre
 like the Wenceslas Square, or even Old Town Square!! Of course, those places are a bit more pricey but it would be cool to experience it for one or two nights….
Anyways, I thought I would mention it to you since most of us have to deal with these kind of things when we go back.
CZ: Take si nekdy rikate, kde byste bydleli, kdyby cela vase rodina jela navstivit Cechy? Hodne z nas, bud uz rodice/pribuzne v Cechach nema a kdyz ma, tak jejich byt je pro ctyr-plus clennou rodinu proste maly. Home Sweet Home je realtni agentura, ktera nabizi cenove dosti vyhodne kratkodobe i dlouhodobe pronajmy po celych Cechach, vcetne centra Prahy jako je Vaclavske namesti nebo Staromak!! Pravda, byty v centru jsou trosku drazsi, ale stalo by to za to, zaplatit si jednu az dve noci a z okna se divat primo na kostel Svateho Mikulase :).
Jestlize o takovych vecech premyslite, urcite se na jejich webovky mrknete – stoji to za to.
If you liked this post buy me a coffee! (Suggested:$3 a latte $8 for a pound) Thanks!