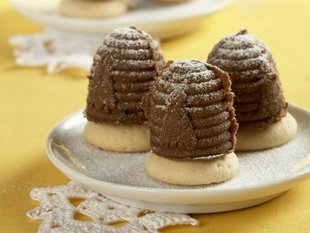 Vceli uly – or Bee Hives – are a pain in the neck to make. These Christmas cookies are mostly made out of butter  (what a surprise?) which makes the dough/filling melt and then it sticks to everything including your fingers which makes you lick the fingers all the time, which in turn makes you gain about 3 pounds only during the process of making the dough. HOWEVER, if they turn out good, they are goooood. My American friends love them and can't get enough of them.
The following recipe is from my blogging friend Lenka. The only thing I added are the ground walnuts which improve  stability of the cookie. Whatever you do, please make sure that your dough is cold, right out of the fridge when you start working with it. Otherwise your cookies will melt and will not look good.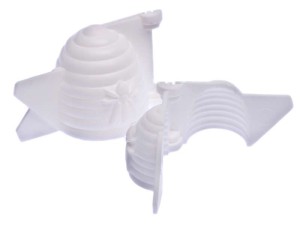 The only thing you need is the bee hive cookie mold which you can purchase here. The price is $8.99 plus $3.00 for shipping and handling. Please, contact me here, if you need one.
Good luck!!

Ingredients:
5 cups of wafers
1 cup of confectioners sugar
1/2 cup of unsalted butter
3 Tbs of milk
6 Tbs of rum (or rum extract)
1 Tbs of cocoa
about 1/2 cup of ground walnuts
Filling:
 1/2 cup of butter
1 cup of confectioners sugar
 2 egg yolks
 1 Tsp of vanilla extract
 1 Tsp of rum
EASY METHOD: Make filling out of vanilla pudding
Method:
Grind up 5 cups of wafers
Mix them with sugar, butter, milk, rum and a cocoa
Make a dough out of the mixture and put it in the fridge to rest for about 30 minutes

To make a filling: 

Mix butter, sugar, egg yolks, vanilla extract and rum. Mix together and put it in the fridge for 30 minutes.
When the dough and the filling is hard enough to work with pull it out of the fridge.
Take one of the forms and sprinkle the inside of the form with a little bit of the confectioners sugar so the dough does not stick to it.
Take about 1 Tbs of the dough and stuff it into the cookie form. Make a hole in the dough with the end of the wooden spoon.
Stuff that hole with filling.
Cap it with a whole wafer.
Slowly open that cookie form and voila! Here is your festive Christmas Bee Hive!!!
If you liked this post buy me a coffee! (Suggested:$3 a latte $8 for a pound) Thanks!