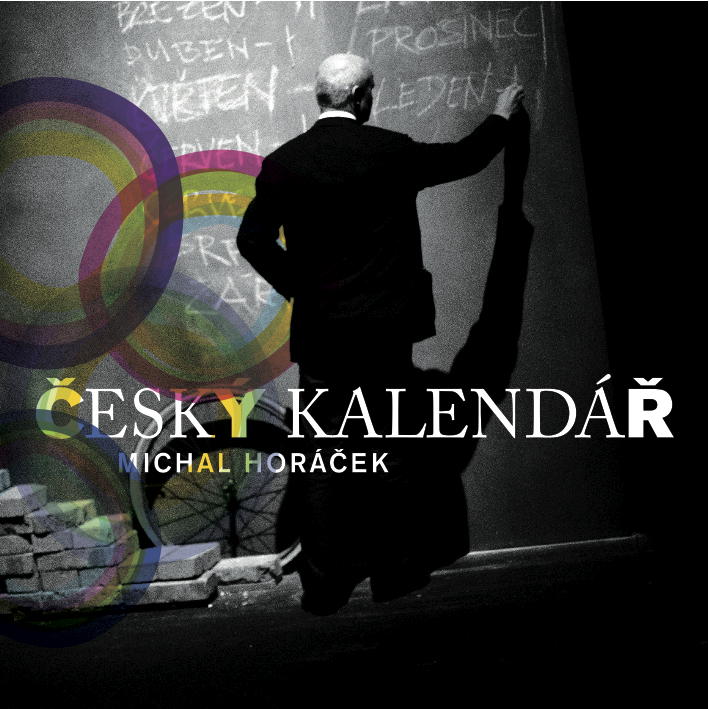 If one leaves the Czech Repulic at the age of 18 like I did, many important things, mainly from politics, history and culture just pass right by you. Of course, I wasn't a complete numb head, I was attending one of the hardest high schools in the country and I was getting good grades. But still, when you are eighteen, your priorities and targets of interest are just different than when you are 30 years old. Am I right or am I right?
One of those important things – or rather persons – that passed me by was a gentleman named Michal Horacek. A very intelligent and multi-talented Czech personality which is worth knowing about. Anyhow, he recently produced (and wrote the lyrics to the songs) a CD called "Cesky kalendar" (Czech calendar), which is filled with a bunch of fresh new Czech songs. And the word 'fresh' is very important because our family is kind of tired of the same old songs. We listen to Czech music in the car and since we drive a lot, we need new material, new inspiration! That is why I was so excited about this. What is also very cool is that the music was written by talented individuals from the general public. Horacek announced a composer competition and ended up picking 32 best sounding pieces out of the total of 1,100 of them. Truly a nationalistic piece of art.
Anyhow, check it out at clickmusic.cz, the downloading price is very reasonable.
CZ: Kdyz odejdete z Ceske republiky v 18-ti letech jako ja, tak vam toho hodne utece pod prstama. Jste moc mlada, aby jste se zajimala o podstatne veci jako je politika, kulutra a historie. To vite, ze jsem nebyla uplne natrvrdla, chodila jsem na gympl a lecos jsem vedela. Ale jak rikam, byla to jina doba a stredoskolak ma proste jine zajmy nez vyspela osoba. Napriklad mi uniklo velezname jmeno (nebo uz jsem ho zapomnela?) Michal Horacek. 
Jak jsem se k nemu dostala?
Browsovala jsem totiz nedavno webovkou clickmusic.cz (vyborny zdroj na stahovani ceske hudby za velmi rozumne ceny) a stahla jsem si vyborne CD zvane "Cesky kalendar" (ja s detmi vzdycky posloucham ceskou hudbu v aute, tudiz nova inspirace je neustale zapotrebi). A Cesky kalendar prave tou novou inspiraci je. Slova jsou napsana prave vyse zminenym Michalem Horackem a byla zhudebnena – to je na tom to nejzajimavejsi – ceskou verejnosti! Z 1,1000 predlozenych skladeb Michal Horacek vybral 32 tech, ktere ho zaujaly nejvice. Je to tedy takove narodni dilo, venovane promenam kalendarniho roku.
Take se mi na teto hudbe libi, ze ji mohou poslouchat deti i dospeli. Je fakt osvezujici poslouchat neco jineho nez hudbu, na ktere jsme vyrostli. Urcite se na to mrknete, stoji to za to.
Nové album Michala Horáčka Český kalendář je nepochybně mimořádným projektem.
Nejen proto, že na albu najdete 24 interpretů od Vojty Dyka a Anety Langerové přes Janu Kirschner, Michaela Kocába, Katarínu Koščovou, Báru Basikovou, Jardu Trabanda Svobodu, Lenku Novou, Františka Segrada, Lenku Dusilovou, Ondřeje Rumla, Szidi Tobias a další až po Zdeňka Svěráka. Zvláštností Českého kalendáře je i to, že jeho písně vytvořili nejen věhlasní skladatelé jako Petr Hapka, ale i umělci dosud neznámí: ti, kteří Michalu Horáčkovi během let posílali svá zhudebnění jeho balad prostřednictvím internetu. Z 1,100 předložených skladeb Michal Horáček posléze vybral 32 těch, které ho zaujaly nejvíce.
Balady Českého kalendáře, který vznikl jako doslova národní dílo, jsou věnovány proměnám kalendářního roku. Mezi "vypravěči" jsou nejen ženy a muži podobní komukoli z nás, ale i brankář hokejového týmu nebo Pražské Jezulátko. Vyprávějí o české zkušenosti vášnivě i melancholicky, se smutkem i s humorem, s úzkostí a touhou – jak je tomu ostatně u projektů Michala Horáčka  vždy.
Český kalendář vychází digitálně na ClickMusic s kompletním bookletem, plným fotografií v PDF a bonusovou skladbou, kterou na fyzickém nosiči nenajdete.    https://www.facebook.com/ceskykalendar  http://www.ceskykalendar.cz/
If you liked this post buy me a coffee! (Suggested:$3 a latte $8 for a pound) Thanks!