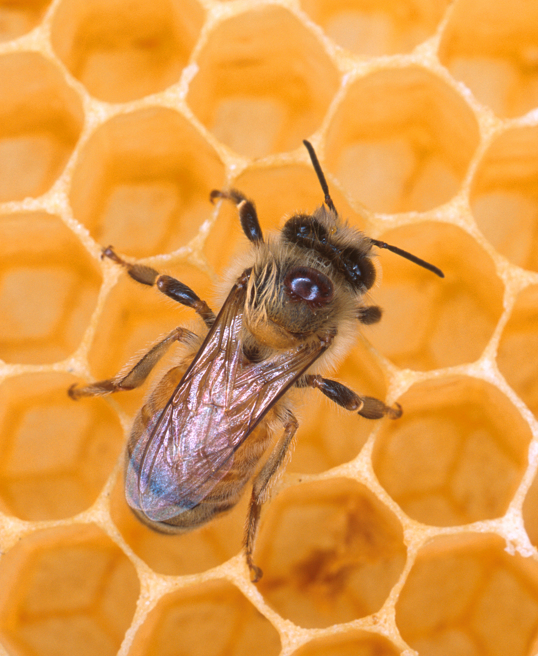 Up until last night I was totally oblivious to the new city fad – keeping beehives on the roofs of skyscrapers and apartment buildings! I always associated bees with flowering meadows deep in the countryside but not anymore! In an attempt to save bees from decreasing in numbers many city folks accross the world (Londoners being in the lead) decided to become so-called urban beekeepers.
And Prague is one of those cities. The Prague airport has its hive, so does the Prague Castle and now even some restaurants are proud owners of their own beehive, one of them being the famous hotel Intercontinental. The kitchen chef there is very excited about it, yet in order to supply the 200 kilos of honey a month that the kitchen needs he would need about 50 more beehives, he says.

Some British scientists disapprovingly nag their heads. Why? Because the cities do not have enough flowers to comfortably feed the hives and a lot of bees end up starving to death:'Our calculations indicate that each new hive placed in London would need the equivalent of one hectare of borage, a plant that attracts mainly honey bees, or over eight hectares of lavender, a plant that attracts mainly bumblebees but some honey bees.'
They suggest that better scenario is to plant more flowers and increase their habitat. And that way honey will taste like honey again ;).
CZ: Slyseli jste jiz o vzrustajicim poctu mestskych vcelaru? Je to ted strasne v mode. V popredi je Londyn a Praha take nezaostava. Sve vceli uly ma na strese jak Prazsky hrad, tak letiste Vaclava Havla a ted jiz par elegantich restauraci jako ta v hotelu Intercontinental. Sef kuchar si nad vcelami moc libuje, ale priznal se, ze aby mu vyprodukovaly potrebnych 200 kilo medu za mesic, tak by potreboval jeste tak asi 50 ulu navic.
Britsti vedci nad tim vsim krouti nesouhlasne hlavou. Boji se totiz, ze mesta nemaji dostatek kvetin, aby uzivila vzrustajici pocet mestkych roju a vetsina vcel tak pry umre hladem. Podle nich je lepsim resenim zasadit vice kvetin a zvetsit jejich habitat. A tim padem bude med zase chutnat jako kvetinky a ne jako smog ;).
Sources:
http://www.rozhlas.cz/zpravy/priroda/_zprava/po-hradu-a-letisti-ma-svoje-vcely-i-prvni-prazsky-hotel-kilogramy-medu-ceka-na-jare–1266330
http://www.dailymail.co.uk/sciencetech/article-2392608/Keeping-bees-cities-actually-BAD-City-hives-run-risk-insect-starvation.html
If you liked this post buy me a coffee! (Suggested:$3 a latte $8 for a pound) Thanks!