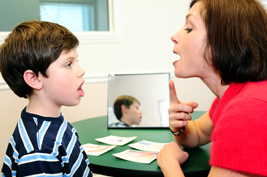 I don't remember when do native Czech kids learn to pronounce the sharp Czech 'r' and 'r s hackem' but our almost 6 year old Hahna is still can't do it. I remember when I was in kindergarten I had to go to a speech therapy where they taught me how to say 'r' by substituting it with the letter 'd'. So instead of 'trenky' (shorts) I would say 'tdenky'. The trick is to say the word at first really slow, then increase the speed and with time and practice the magic starts to work and – voila – you get the word 'trenky'.
Many times the process is not so easy and the kids are resilient to any kind of treatment. Well, any kind of standart treatment. One dad got supposedly so mad over his son's inability to pronounce the correct r that he promissed him if he learns it he can yell the word 'prdel' (ass) out of the window every day at noon. And guess what? To the dismay of the neighbors it worked.
What speech impedaments do American kids have? Surely they cannot struggle as much as the Czech kids since 'r' with 'hacek' is without a question the craziest sound on this planet. In fact, I bet even aliens don't have a crazier sound than we do. Does that makes us smarter than everybody else? Unfortunately no.
Anyhooo, I gathered some website info that deals with this issue. And here are some exercisers:
tra (pronounce as tda), trám (prononce as tdam), tráva(tdava), tradice (…), trafika, trafika, trápit, trápení, tramvaj, trať, trasa, trávník ,tref, trefit, trefí, trend, tréma, trenýrky, trénink, trénovat, treska, trepka, trestá, trest, trestat, trezor 
Whole sentences:
Strejda Petr ztratil svetr. Ztratil i triko. Strejda Petr je truhlář. Má strach z trestu. Petr z Ostravy má truhlu. Ostrý vítr v tropech fouká velmi rychle. Jeden decimetr má deset centimetrů. Metr má sto centimetrů. Já rád játra, ty rád játra. Petr v triku na trávníku hraje na trubku. Petra troubí na trumpetu – trů trů trů. Petra se chvěje strachy. U stromu sedí trpaslík. Petr trénuje u tribuny. Bratr má triko. Kmotra a kmotr jedí citrony. V Ostravě jsou stromy.

 CZ: Nepamatujete si, kdy se ceske deti nauci vyslovovat 'r' a 'r' s hackem? Nase male Hanicce bude za chvili 6 let, ale jeste to bohuzel neumi (a to se snazi!).  Ja sama jsem ve skolce chodila na logopedii, kde me pani ucitelka naucila vyslovovat 'd' misto 'r' a postupne ze s 'tdenek' staly 'trenky', takze myslim, ze v prvni tride uz jsem to umela. Ale jestlize zijou deti v cizine, pak je ten proces asi o trosku delsi…
Nasla jsem tu par pomocnych stranek, ktere se timto problemem zabyvaji a vycucla jsem z nich nejaka ukazkova cviceni. Jestlize toho chcete vice, jdete primo na one stranky.
Behem meho internetoveho studovani jsem procitala u clanku take komenty a jeden me opravdu pobavil. Nejaka pani tam zaluje na sveho manzela, ze kdyz byl pry maly tak byl naprosto imunni jakymkoliv logopedickym cvicenim a vypadalo to, ze se 'r' proste nikdy nenauci. Pak mu rozlobeny tatinek ve vzteku slibil, ze jestlize se ho nauci, tak muze kazdy den v prave poledne zakricet z okna slovo 'prdel'. No a co myslite? Hned se mu rozvitilo v hlavicce!
http://www.prozeny.cz/magazin/deti-a-rodina/pubertak/15754-naucte-sve-dite-proklete-r?komentare=nejnovejsi
http://www.logopedie.unas.cz/?text=17-hlaska-r-1-cast-tr
If you liked this post buy me a coffee! (Suggested:$3 a latte $8 for a pound) Thanks!