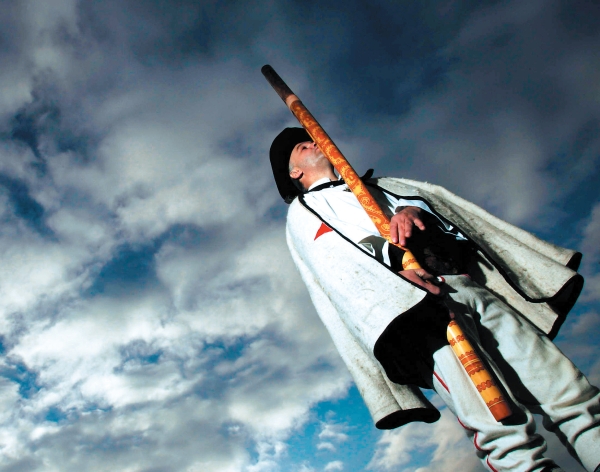 Fujara is not some new action game on your iPhone but a 6-feet-long rare folk Slovak musical instrument from 12. century. It looks like a large flute with 3 side holes and a parallel smaller tube, which supplies air to the top of the flute. Cherished in the seclusion of Slovakian mountains by shepherds, the fujara and its rich spectrum of healing overtones were preserved over the centuries. Until recently the fujara was not known outside of Slovakia, where only a small number of traditional musicians play the instrument, and a handful of craftsmen there can make one. But now people all over the world are discovering beauty and unique qualities of fujara, and there is growing number of fujara players…AND you can be one of them (you don't have to know how to read the notes)!
Learn to play Slovak fujara at the Common Ground on the Hill (non-profit organization in Maryland) from a Czech musician Bob Rychlik.
Click here and click on "Winds and free reed instruments" and then click on the "Overtone flutes – Fujara and Koncovka" class.
If you have a Slovak heritage, what a great way that would be to connect with your roots if you learn how to play it! Or just learn to play fujara to be the light of the next party you go to! If someone asks you what your hobbies are, just say: "Just a minute" and come back with a 6 foot long black case with your fujara in it. They may thing you are in the mortuary business :).

CZ: Kdyz reknu slovo 'fujara', take si vybavite pasaka ovci se svym stadem a v pozadi mohutne Tatry? Jestlize zijete v Marylandu, tak ted se muzete takovym pastyrem stat i vy (jen to stado ovci se bude tezko schanet)! Pan Bob Rychlik, Cech zijici v USA jiz od roku 1983, tam totiz tento nastroj uz nejaky ten patek uci. 
Potrebujete si zopakovata fakta o tomto 2 metrovem nastroji? Tady to je: 
'Fujara je slovenský lidový dřevěný dechový hudební nástroj. Jde o obdobu gotické basové trojdírkové píšťaly, které byly velmi známé a hojně rozšířeny v Evropě ve 12. až 13. století.
Podle slovenských odborníků na slovenskou fujaru spadá místo vzniku fujary do oblasti severně od města Banská Bystrica. Usuzuje se, že trojdírková basová píšťala se na toto území dostala v době tureckých válek, kdy u Slovenské Ľupči pobýval pluk žoldnéřů ze západní Evropy.
Na fujaru hrávali pastýři při pasení ovcí a také při rozličných slavnostních a smutečních příležitostech. Používala se i jako signální komunikační nástroj. Hra na fujaru vyžaduje, aby měl hráč hudební sluch. Hráč střídal svoji hru se zpěvem.
Od roku 2005 je zapsána organizací UNESCO na seznam Mistrovských děl ústního a nehmotného dědictví lidstva jako jediný zástupce Slovenska.[1]
Hra na fujaru nevyžaduje znalost not, ale hudební sluch hráč na fujaru mít musí.'
-vynatek z wikipedia.org
Lekce fujary mohou byt nalezeny zde pod  "Winds and free reed instruments" a pak kliknete na "Overtone flutes – Fujara and Koncovka".
If you liked this post buy me a coffee! (Suggested:$3 a latte $8 for a pound) Thanks!