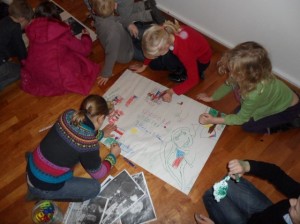 This is an exciting news! Yet another Czech school is about to be born in the United States, this time in Georgia, Atlanta. However, they need to see your support in order for it to happen. Let them know you are interested!!
Check out their Facebook profile here or email Ivana at  ivana.skolaatlanta@seznam.cz 
Here is the letter from Ivana (in Czech):
Vážení rodiče a zájemci,
dovolujeme si vás upozornit, že toto je pokus o založení české školy v Atlantě, Georgii a to ve spolupráci ČESKÉ ŠKOLY BEZ HRANIC. Tato budoucí škola potřebuje vás všechny: rodiče a děti, učitele a organizační pracovníky. Bez vás existovat nebude a tím bude řada dětí připravena o možnost se naučit v zahraniční česky. Dejte jim šanci, zapojte se.
ČESKÉ ŠKOLY BEZ HRANIC nabízejí výuku češtiny a českých reálií pro děti ve věku od 18 měsíců do 15 let za hranicemi ČR jako doplnění každodenního vzdělání, které děti českého původu získávají v zahraničních školách. Činnost Českých škol bez hranic je koordinována občanských sdružením ČŠBH, o.s. Více informací o výuce naleznete na stránkách http://www.csbh.cz/ Projekt podporují Ministerstvo zahraničních věcí a Ministerstvo školství ČR svými granty, které nicméně zdaleka nepokrývají veškeré náklady na provoz. Školy jsou tedy závislé na podpoře rodičů a sponzorů. Občanské sdružení ČSBH by rádo rozšířilo výuku češtiny pro děti i do oblasti Atlanty.
Projekt se nachází ve fázi zjišťování zájmu z řad rodičů a také zájemců o organizaci školy a učitelů. Na FB Česká škola Atlanta najdete dotazník. 
Vyplněné dotazníky zašlete prosím na email: ivana.skolaatlanta@seznam.cz nejpozději do 15. 3. 2013. 
Osobní informační schůzka bude následovat.
Děkujeme za váš zájem. 
Ivana Valkusová 
s podporou Lucie Slavíkové-Boucher, předsedkyně ČŠBH, o.s.
If you liked this post buy me a coffee! (Suggested:$3 a latte $8 for a pound) Thanks!