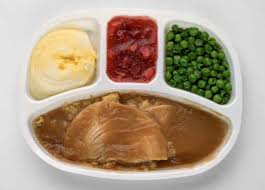 I was standing in the check-out line at Target and behind me was a mom of three (how do I know that? Because they were all climbing all over her!) putting her shopping on the counter belt: Campbell canned soups, Lunchabels, TV dinners for kids, chips,…..I don't think there was one unprocessed thing there. And I felt bad for the kids knowing what crap they are going to grow up on.
We did have pollution from cars and factories, even dealt with Chernobyl but we also had home-cooked meals every day. Our moms did not know any better and none of these pre-made meals were available. Although working full-time, my mom would make us a 2-course meal –  including soup and main dish – every single night. True, the soup was made sometimes from the store-bought package but I am pretty sure the ingredient list wasn't a page and half long.
Even though I watched my mom cooking my whole childhood, I myself learned how to cook in the US. And I enjoyed the ride and my husband even more! But even if I didn't have the 'cooking genes' and hated every bit of it I knew deep inside that I have to cook when it comes to my family. I would never even think of giving any of these above-mentioned 'plastic' meals on our table!

Czechs generalize Americans and say that they never cook and always eat out. Although I know what they are talking about and I see it around me, I have to say that my close American friends are exactly the opposite. They cook meals every night and what is more, the ingredients are organic, some of the meatless….they are doing everything right. But they do go out every once in a while as does our family. And although many Czechs proudly say that they NEVER go out to eat, I think it is OK to eat out every once in a while.
Again, we are talking about balance here. When one NEVER eats out, then not only you never get a break from cooking but you single yourself out and are a black sheep in the society. Plus, it is important to say that there are MANY healthy restaurants you can eat at, right?
This is what we do. I usually cook 6 times a week and then we go eat at a restaurant and we call it a family night. Everyone loves it. Mommy doesn't have to cook, we usually connect it with a trip to the park so the kids love it. Daddy loves it because everyone else loves it. And we don't inhale burgers and fries and suck down milk shakes and ice-creams either :).
If you liked this post buy me a coffee! (Suggested:$3 a latte $8 for a pound) Thanks!