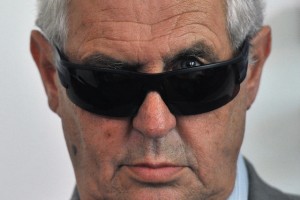 After 10 years Vaclav Klaus had to step down and let someone else rule the country. For the first time in history the Czech people themselves elected former PM Milos Zeman to be their new representative. The BBC News descirbes him as follows:
"Mr Zeman is seen as a hard-drinking, chain-smoking politician, known for his witty put-downs of opponents".
The city people and people under 29 rooted for Mr. Schwarzenberg, a 75-year-old titled prince, who worked as a chancellor to the famous President Vaclav Havel. The older citizens and the country folks seem to like Zeman more.
Unlike the eurosceptic Vaclav Klaus, Zeman is a deeper supporter of the European Union. Since the Czech president does not (thankfully?) have much political power, most of his everyday duties will be representing CR abroad. Will he be able to handle it? We will see!

CZ: Cesi maji noveho prezidenta! Milos Zeman prejal stafetu po euroskeptikovi Klausovi a bude nam na hrade kralovat celych 5 (nebo 10?) let. Zvladne uspesne reprezentovat Ceskou republiku v zahranici? To se uvidi…. 
http://www.bbc.co.uk/news/world-europe-21210495
http://www.ceskenoviny.cz/domov/volby/zpravy/median-zeman-vyhral-diky-tomu-ze-pritahl-levicove-volice/895188
If you liked this post buy me a coffee! (Suggested:$3 a latte $8 for a pound) Thanks!