This the season to make a Sain Nicholas costume because December 6th – the Saint Nicholas Day –  is just around the corner. To complete the trinity you need to obtain the costume of an angel as well as the  devil because they all walk together on that day, but that's easy peasy. The St. Nick part is the hard part. The good old red and white Santa outfit is just not going to work…… So you just have to make one for yourself like I did! Most of it is pretty easy to do except the stinkin' hat. But what you see on the picture is my first try of this costume and the hat did not turn out that bad either. You just have to make sure you mesure the circumference of the head of the person that's going to wear it.
The body outfit is a very simple cut: a one doubled up rectangle 'nightgown' and another doubled up square that goes over the nightgown and you cut a hole for the head. Done. Then you find some fancy gold ribbon, make a cross from it and sew it on. You can also decorate the edges of the garment.
Now the hat. A bit challenging. To make it stiff you have to get so-called 'fabric interfacing', which is basically a net-like material on which you iron your fabric. You iron a piece of fabric from the inside as well as from the outside (the outside fabric has another ribbon cross which I sewed on ahead of time. Once I had both of the fabric interfacing pieces (the back piece and the front one) covered with white fabric I sewed them together and again, decorated the edges with some extra fancy ribbon. And done!
Oh and the St. Nicholas walking stick? You just find any long stick and wrap it with aluminum foil.
Now it's time to stuff the basket with goodies, call your angel and devil on duty and it's time to hit the streets :).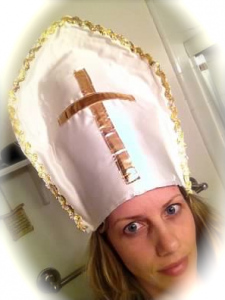 If you liked this post buy me a coffee! (Suggested:$3 a latte $8 for a pound) Thanks!