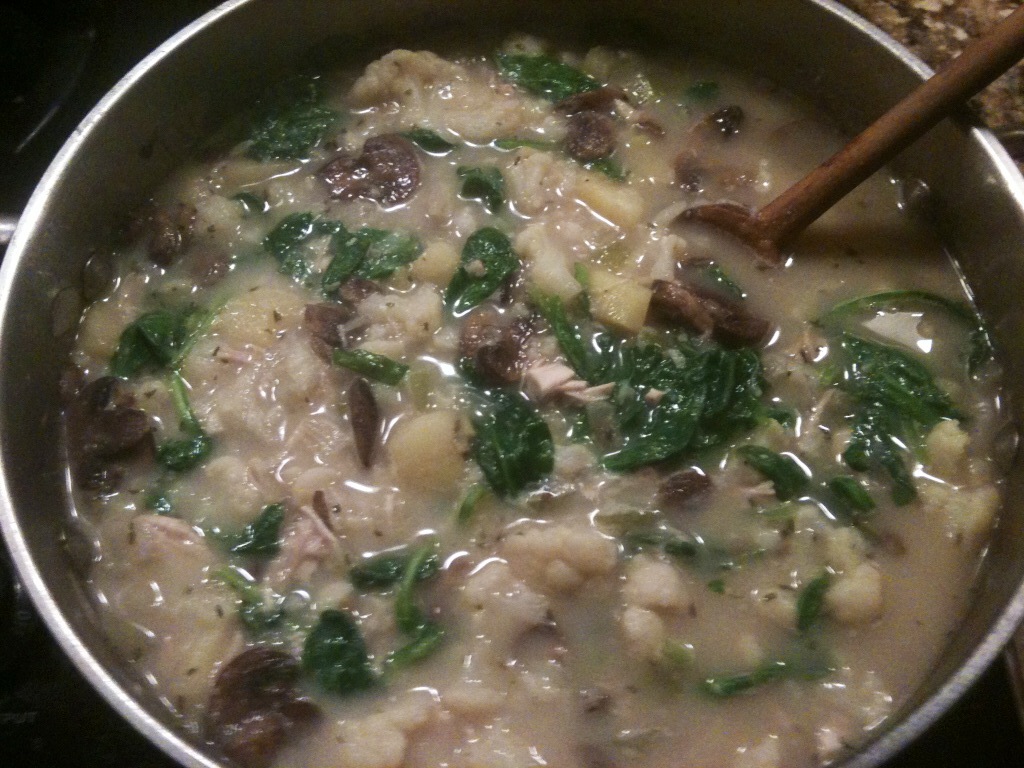 It is a soup weather again so this time I chose to write a recipe for a cauliflower soup (kvetakova polekva) –  my daughter's favorite soup. Not sure if the Americans cook it here but I don't think so. If they do they probably put it in a blender to make a puree but that is not the Czech style. Well, the fact that I added some mushrooms and spinach is not the traditional Czech way either but it makes it more interesting.
CZ: Ke studenym dnum patri teple, huste polevky, jako napriklad kulajda, bramboracka nebo kvetakova polevka, o ktere dneska napisi. V Americe ji tu nedelaji, leda jenom jako puree a to neni nic moc.

Ingredients:
1 cauliflower head, cut up into small pieces
1 small onion
3 cloves of garlic
3 medium potatoes, cut up into small cubes
1 cup of mushrooms
1 – 2 cups of fresh spinach
5 cups of vegetable/chicken broth
1/2 cup of cream
2 Tbs of flour
1 Tbs of butter
1 egg
salt, pepper
Method:
Melt butter on a pan an fry diced pieces of onion and mushrooms
When slightly  golden, sprinkle flour over them and stir in for one more minute
Stir in the mashed up garlic and cook for another minute
Pour in the broth
Add the potatoes and cauliflower into the broth and wait until mixture starts to boil
Simmer for about 15 to 20 minutes or until vegetables are tender
Stir in the cream and simmer for a couple more minutes
Slowly stir in the egg
Stir in the spinach and wait until it wilts in the soup
Add salt and pepper for taste
If you liked this post buy me a coffee! (Suggested:$3 a latte $8 for a pound) Thanks!