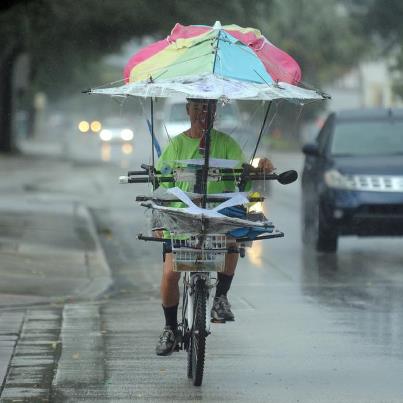 OK, we know that the Czechs are quite inventive. Prokop Divis invented a lighting rod, Jan Jansky invented blood types, Otto Wichterle came up with contact lenses...and the list goes on. But czech out this Czech guy!!!! (pix attached). Should he not be on the inventor's list as well??
Petr Kratochvil of the Czech Republic rides his "aerodynamic," bicycle on Federal Highway in Hollywood, Thursday, Sept. 13, 2012. Kratochvil, who is an "inventor," says the bike keeps him in the wet weather and in the shade when it is sunny. Photo by Joe Cavaretta, SunSentinel (c)2012

CZ: To, ze maji cesi zlate rucicky, je svata pravda. Prokop Divis vynalezl hromosvod, Jan Jansky zase krevni typy, Otto Wictherle prisel s kontaktnimi cockami….a seznam jde dal. Co ale tenhle cesky pan, co se projizdi ulicemi Hollywoodu (viz. obrazek)? Nepatri take na onen seznam vynalezcu??
If you liked this post buy me a coffee! (Suggested:$3 a latte $8 for a pound) Thanks!