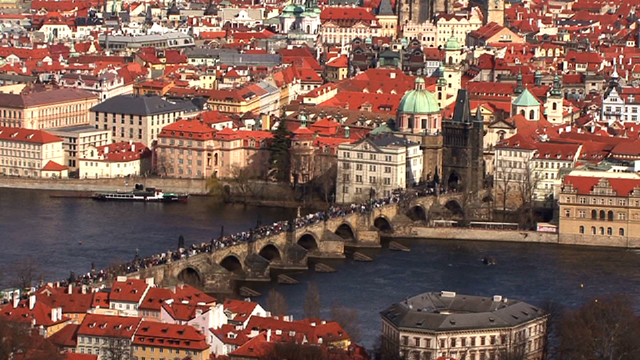 Everyone loves Prague. I mean, have you ever met anyone who didn't? Even the prominent British newspaper Daily Telegraph chose it to be the 4th (!!) best city for young expat life. Listen to this: 'Beautiful and only a short flight away from Britain, Prague offers all the stability of Europe with not requiring a new language, and it has the best beer in the world."
Radio Prague also gives us some statistics to how many expats live there and what their nationality is:
15,000 Germans
6,0oo Americans
5,000 Britons
3,000 Frenchmen
Most of them are business people, teachers and students.
There is a little glitch in this Prague bliss however, and that are the Prague locals. Listen to Carol, one of the young expats:
"The biggest downside is the closed mentality (of Czechs). What we can observe in Prague – and it might be different outside of Prague – but in Prague it is like that, people are closed, are reserved. You go to a shop and two months after you've lived here you've learnt that you're not surprised that people don't smile at you, either in a shop or a restaurant; you're not the king as a client, or as a guest. And you have to get used to it. And it takes a long time and even now sometimes I'm really bothered about that, and I just say – it's just like that, it's a mentality thing, and you have to get used to it."
That's kind of sad because I know what she means but at the same time I know so many other Czech people living in Prague (my friends, for example) that are super friendly when it comes to meeting foreigners. What do you guys think the problem is?
Read the rest of the article here.

CZ: Webovky Radia Praha nedavno upozornily sve ctenare na clanek britskych novin  The Daily Telegraph, ktere zvolily Prahu jako 4. nejlepsi novy domov pro mlade expatrioty. Jestli totiz netusite (jako jsem netusila ja), kolik cizincu v Praze zije, tady je mensi seznam:
15,000 Nemcu
6,000 Americanu
5,000 Britu
3,000 Francouzu
Vetsina z nich jsou but podnikatele, ucitele nebo naopak studenti. Praha je pro ne tedy optimalnim novym domovem. Proc? Svym rodnym jazykem (nebo anglictinou) se vsude domluvi, bydli v nadhernych, levnych apartmanech ve stredu Prahy a po praci si muzou zajit na to nejlepsi pivo na svete. Jednu vec by ale vymenili: samotne Prazany ;). Jsou podle nich dosti nevlidni lide. Ne jednu stranu vim, o cem tu mluvi, ale na druhou stranu tomu zase moc nerozumim, protoze znam moc a moc velmi prijemnych Prazanu, kteri si radi s cizinci pokecaji. Babo rad!
Zbytek clanku si prectete zde.
If you liked this post buy me a coffee! (Suggested:$3 a latte $8 for a pound) Thanks!