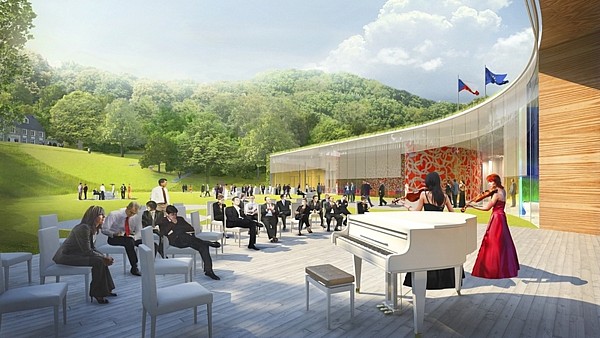 If you have eve been to the Czech Embassy in Washington DC, you know that it needs some work. In fact, the Czech government thinks it needs way too much work, therefore it is better to just level it with the ground and start over. The following pictures are early digital  images of what is waiting for us in the near future. Actually, I should not say 'in the near future', since the actual building process is supposed to start in 2014, so who knows when it is going to be done.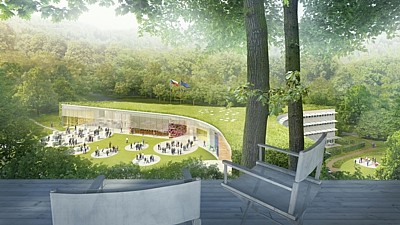 As you can see from the second image, the embassy will be shaped into the letter 'Y' and the actual cost will be around 580 million Czech Crowns. The smart architects took advantage of the uneven terrain and one part of the building will have only a single story,while the administrative part of the embassy will have 4 floors. That's certainly a new look!
CZ: Ceska vlada tuto stredu schvalila plan na stavbu noveho velvyslanectvi v USA (Washigton DC). Jestli jste tam nekdy byli,
tak moc dobre vite, ze jakasi rekonstrukce nynejsi budovy opravdu nutna je. Ale zdemolovat ji a postavit budovu uplne novou, to je opravdu radikalni rozhodnuti!
Naplanovana budova ma by ve tvaru pismene 'Y', v jehoz 'noze' boudou reprezentacni prostory a v ramenech pak kancelare administrativy. Zajimave je, ze architekti vyuzili zvlneneho terenu a zatimco reprezentacni cast bude jednopodlazni, cast pro kancelare bude ctyrpodlazni.
Ministerstvo odhaduje, ze celkove naklady na projekt budou kolem 580 milionu korun a chce na to ziskat penize z prodeje sveho nemoviteho majetku v Cechach i zahranici.  Zahajeni stavby se tudiz planuje az na rok 2014.
Uz se tesime!
If you liked this post buy me a coffee! (Suggested:$3 a latte $8 for a pound) Thanks!