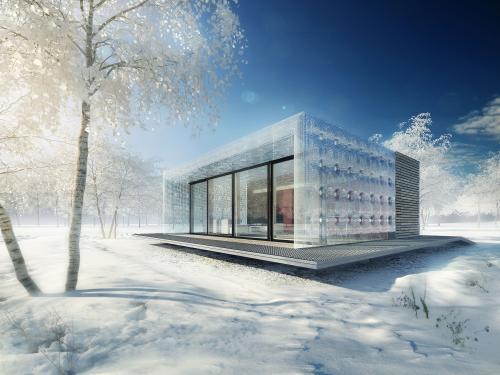 Every 2 years the American government  puts out a student contest called the Solar Decathlon in which the contestants compete in designing a self-sufficient solar house. The Czech team placed itself among the 20 finalists for the first time in history. They call their design The Air House, which combines 2 main elements: a wooden box and a light membrane. The wooden box contains all of the technology needed to run a household; it's also very compact and inexpensive. The membrane can be seen as a blow-up mattress which wraps around the living area, making it it's smart 'skin'.
"The smart thing about the house is that it is very light, compact, easily transportable and it can be built very quickly; you can pretty much just blow it up," explains one of the Czech team members. The membrane can be a carry-on, it is an isolation for the house, it makes energy and creates shade from the sun all at once. All of of the building materials are 100% recyclable.
The Air House is build to create an ideal living for a young couple, seniors or a temporary living spaces during catastrophic events.
This year's finalist group has only 2 European teams – the Czech one and an Austrian one. The finale is scheduled to be in California in 2013. Go Air House!!
CZ: Americke ministerstvo energetiky vypisuje kazde 2 roky architektonickou studentskou soutez zvanou Solar Decathlon. Snazi se tak naji nejlepsi navrh na stavbu energeticky sobestacneho solarniho domu. Nas cesky tym se poprve v historii umistil mezi 20 finalisty! Nazivaji svuj vytvor tzv. Air house, jehoz koncept je zalozen na kombinaci dvou aspektu: dreveneho boxu a lehoucke membranove konstrukce. Drevena krabice obsahuje veskerou potrebnou energii k provozu domu; je velmi kompaktni a usporna. Membranu si lze predstavit jako nafukovaci matraci, ktera pokryva cely obyvaci prostor a tvori jakousi jeho chytrou 'kuzi'.
"Vtip domu tkvi v nizke hmotnosti, skladnosti, jeho snadnemu transportu a rychle vystavbe. Vlastne ho staci rozlozit a nafouknout," vysvetluje Hlavacek, jeden z ceskych finalistu. membrana je nostna, tepelne isoluje, propousti svetlo, vyrabi elektrickou energi a take stini. K tomu jsou jeste vsechny pouzite materiali 100% recyklovatelne!!
Air House predstavuje bydleni pro mlady par, seniory nebo pro prechodne bydleni v dobe ruznych katastrof.
Tento rok postoupily do finale pouze 2 evropske tymy – tym cesky a jeste tym z Rakouska. Finale se ma uskutecnit v roce 2013 v Kalifornii, tak jim budeme drzet palce.
Source: http://magazin.ceskenoviny.cz/zpravy/cesti-studenti-vytvorili-slunecni-dum-ktery-zaujal-v-usa/751359&id_seznam=
If you liked this post buy me a coffee! (Suggested:$3 a latte $8 for a pound) Thanks!