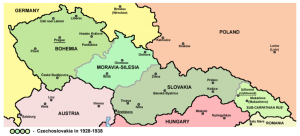 Not sure if you are dealing with the same thing but most people I talk to here STILL call the Czech Republic/Slovakia Czechoslovakia….and Prague is, of course, the capital of Czechoslovakia. Those two nations have split up 19 years ago!!!!!
Please vote here so we can compare our experiences.
CZ: Take se vam zda, ze vetsina cizincu uplne ignoruje to, ze se Ceskoslovensko rozpadlo jiz pred 19 lety? Nezapomente vyplnit anketu, at si muzeme porovnat nase zkusenosti.

Loading ...
If you liked this post buy me a coffee! (Suggested:$3 a latte $8 for a pound) Thanks!