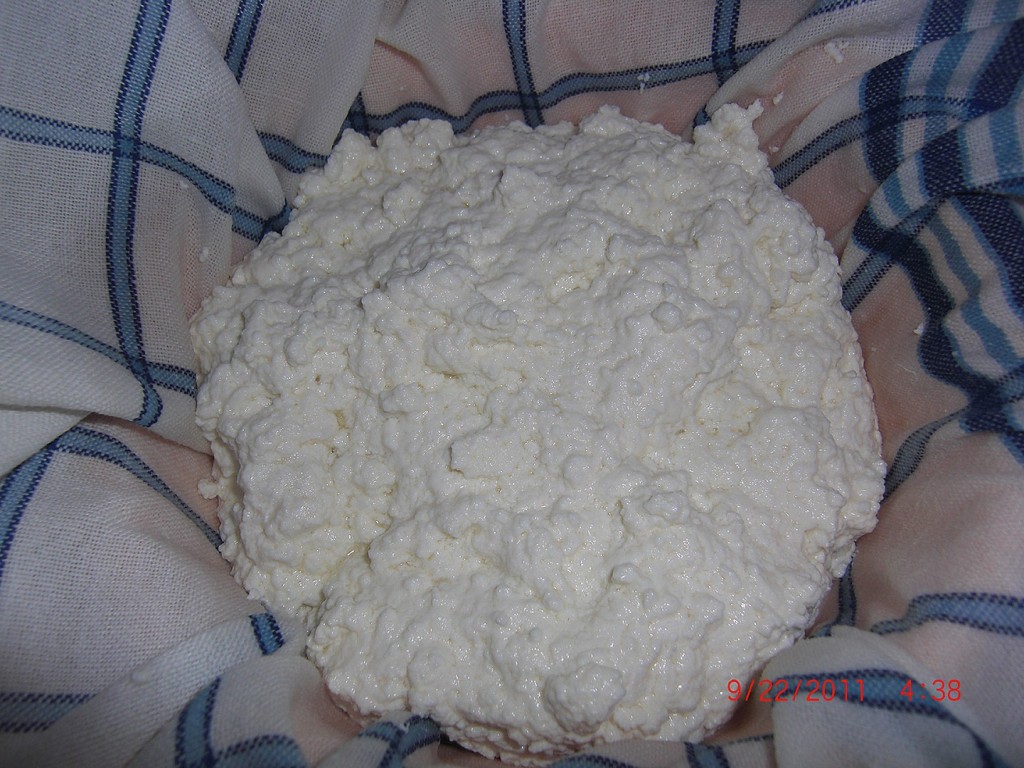 The New Year celebrations are over so let's get back to work and talk about something practical, like 'how to make Czech cottage cheese or TVAROH. Tvaroh is a necessity to many Czech/Slovak meals so once we learn it we are close to reaching the 'Czech nirvana' :).
Thanks to the wonderful Slovak lady named Dagmar, you can make yourself a wonderful authentic tvaroh by following a step-by-step recipe accompanied with wonderful pictures. She even translated it into English for me!!!!
CZ: Novorocni radovanky uz jsou u konce, tudiz je na case dat se znovu do prace a naucit se neco praktickeho, jako treba jak si doma vyrobit svuj vlastni tvaroh. Jak vsichni vime, tvaroh je nezbytnou soucasti mnoha ceskych a slovenskych receptu a jakmile se ho naucime udelat, jsme zase o jeden krucek v dosahnuti 'ceske nirvany' :).
Diky velmi mile a ochotne pani Dagmar ze Slovenska (zije ale v USA) si uz ted nemusite lamat hlavu jak tady v USA nahradit tvaroh. Proste nasledujte nize uvedene instrukce, ktere jsou doplnene nadhernymi nazornymi fotkami. Pani Dagmar byla dokonce i tak hodna a recept mi prelozila do anglictiny!!!
Dagmar: It's Rennet hormone-free cottage cheese that is not available for purchase in USA grocery stores. This cottage cheese is sweet, not salty and it's pretty simple to make:
Ingredients for 200 grams of cottage cheese.:
– 2 l  (1 / 2 gal) fresh milk (any type of milk from a whole milk to a fat free)
– 1/2 l  (16 oz) kefir (the best is to use 2 days old refrigerated kefir, or an extra sour recently strained kefir that fermented for extra 2-3 days). A typical/regular fermentation of kefir takes 24 to 48 hours.
Procedure:
1. slowly heat up a fresh milk to about 140 ° F (60 ° C)
2. pour slowly kefir into the milk while gently stirring. Do not stir fast while the cottage cheese will break into too small curds. Maintain the temperature to 140 ° F.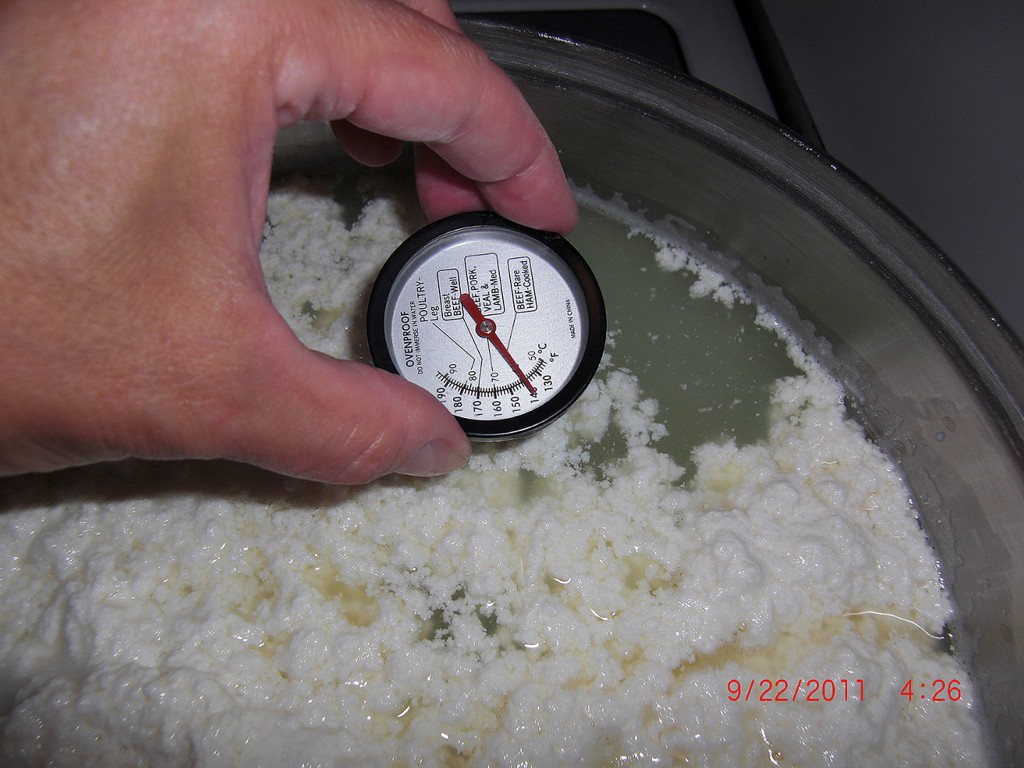 The temperature could be 130 ° F (45 ° C) as well, than the curds will be softer. The curds will be harder and drier if heating up of the milk will be at higher temperature up to 150 ° F (65 ° C). DO NOT boil the milk with kefir.
3. the curds should start slowly separate from the whey (yellow liquid). It takes longer to get the curds at lower temperatures and it goes faster at higher temperatures. Heat till all the whey won't become transparent.
4. turn off and let sit for 2 minutes.
5. strain the curds into a moistened cloth or dense cheese cloth lining up a plastic or stainless steel strainer over a bowl.
6. let it drain for 15 minutes. You can also tie up the cloth and hang it up to let the whey drip out. A longer resting time will lead into a drier cottage cheese.
The heating temperature could be at 80-105 ° F (30-40 ° C) as well. However I didn't try this version yet.
This homemade cottage cheese will last in a refrigerator for one week. I have yet not tested to freeze it, but apparently a purchased cottage cheese in the Czech Republic or Slovakia is freezable.
A very good information about kefir and cottage cheese making can be found on an Australian web site by Dom: http://users.sa.chariot.net.au/ ~ / index.html           I started with this web site as well. .
The leftover whey water can be used for different things from watering plants/flowers to a hair bath. All this is mentioned on the Dom's web site.
I also found an interesting recipe from Canada: http://varecha.pravda.sk/recepty/domaci-tvaroh-v-canade-fotorecept/6224-recept.html          This cottage cheese is made from a non-pasterized milk. This it is not possible to do in USA from a store bought milk.
CZ:Tvaroh bez hormonu Rennet, ktory je vlastne v kazdom tvarohu kupenom u nas v US obchodoch. Tento tvaroh je sladky bez soli a je to aj dost jednoduchy postup: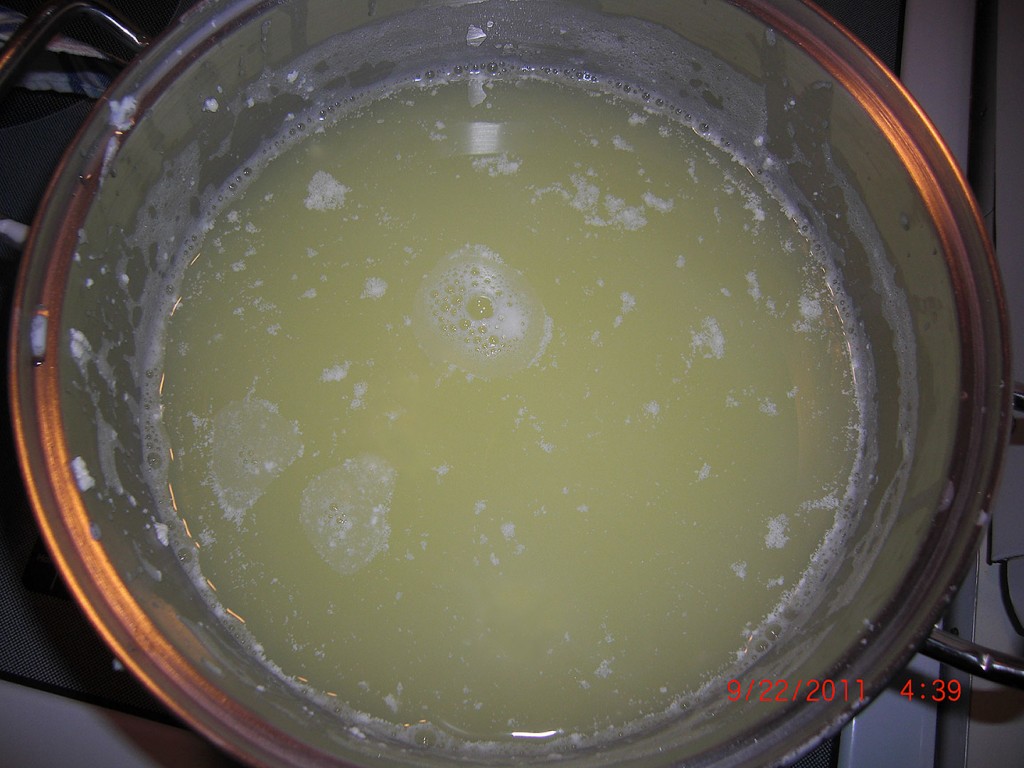 Ingredienty:
– 2 l [1/2 gal] cerstveho mlieka [hociake mlieko mozno pouzit od plnotucneho do fat free].
– 1/2 l pohar kefiru [najlepsi je ten, co sme mali v chladnicke uz 2 dni alebo extra kysly kefir (extra fermentovay = 2-3 dnovy cerstvo ocedeny).
Urobi to asi 200g tvarohu.
Postup:
-Pomali zohriat mlieko na 140°F (60°C)
-Rovnomerne pomali prilievat kefir za jemneho miesania mlieka. Nesmie sa miesat silno/rychlo, lebo sa nam tvaroh rozdeli na malinke zrniecka. Snazit sa udrziavat teplotu 140°F. Teplota moze byt aj 130°F (45°C), vtedy bude tvaroh jemnejsi. Pri vyssej teplote max do 150°F (65°C) bude tvaroh tvrdsi, suchsi.
Hrudky tvarohu by sa mali zacat pomali oddelovat od zltkavej tekutiny (whey). Pri mensej teplote to trva dlhsiu dobu, pri vyssej to ide rychlejsie. Zohrievat, pokial zltkava tekutina (whey) bude priesvitna, skoro vobec nie mliecna (zltavej farby).
-Vypnut a nechat 2 minuty stat. Ocedit a dat tvaroh do predmocenej satky/plienky v ceditku nad miskou. Nechat odstat 15 minut. Dlhsie odstatie – suchsi tvaroch, kratsie, vodnatejsi.
Teplota pri "vareni" moze byt v rozpati 80-105°F (30-40°C) , vtedy bude tvaroh jemny, pri vyssej teplote do 150°F (65°C) bude tvaroh tvrdsi, suchsi a mozno aj na struhanie, ak sa necha dlho odkvapkat.
-Vydrzi v ladnicke tyzden. Vraj sa da kupeny tvaroh v Cesku alebo na Slovensku v pohode zmrazit, no ja som este neskusala.
Vyborne netove informacie o kefire, tvarohu a vyroby syrov z neho su na Dom's web site: http://users.sa.chariot.net.au/~dna/index.html  (Australia) Na tychto strankach som zacala pri vyrobe kefiru, bohuzial vsetko je len anglicky.
Zbytkova whey voda sa da pouzit na rozlicne veci od polievania rastlin/kvetov do kupelu vlasov. Vsetko je spominane na Dom's web site.
Inak prave studujem vyrobu syrov, asi sa nato dam, lebo ceny idu nahore a castokrat je u nas maso lacnejsie ako syry. My mame vsetci moc radi syry a zjeme ich hodne, tak snad sa mi podari.
If you liked this post buy me a coffee! (Suggested:$3 a latte $8 for a pound) Thanks!