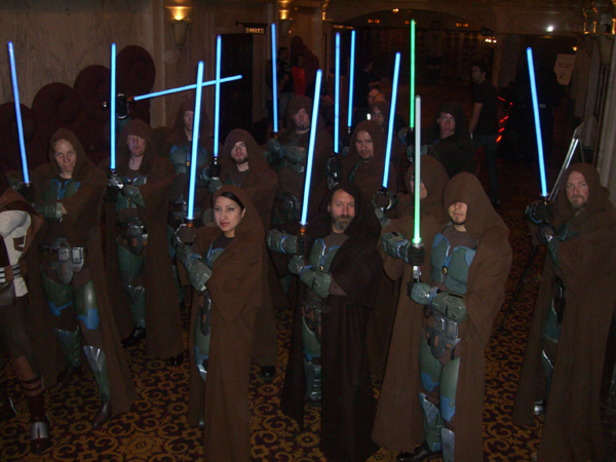 Apparently according to the Czechposition.com the American movie Star Wars has been a great success in the Czech Republic. You want a proof? Just look at the numbers: in a recent nationwide census 15,070 Czechs (0.31%) identified themselves as the 'Jedi Knights' believing in 'The Force'. That's a BIG number!!!

Gosh, I don't really like that movie that much but I guess it's better for the Czechs to believe in a some kind of force than not believe in anything. It gives them hope.
If you are interested in more statistics about the Czech nation please be sure to read the whole article in the Czechposition.com.
CZ: Podle blogu zvaneho Czechposition.com se Hvezdne Valky v Cechach velmi dobre ujaly. Uverejnil totiz udaje ceskeho statistickeho ustavu, kde se mimo jine take zaznamenaly vzrustajici hodnoty poctu Rytiru "Jedi" (neznam toto jmeno v cestine). Tento rok se se jich zaznamenalo celych 15 070, coz je 0.31% ceske populace. Oproti vetsine Cechu, kteri jsou ateiste, tito lide veri v jakousi 'Silu', jenz ridi cely svet. I kdyz me Star Wars nejak nevzaly, prijde mi, ze to bude veselejsi kopa lidi, jelikoz v neco veri a tudiz jim v srdci klici nadeje v lepsi casy.
If you liked this post buy me a coffee! (Suggested:$3 a latte $8 for a pound) Thanks!