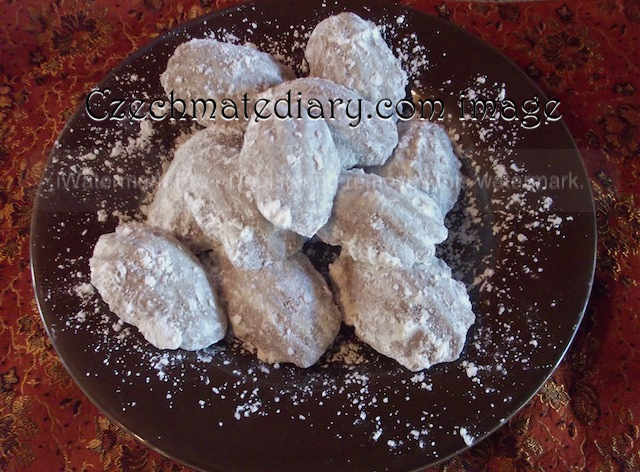 Czech Bear Paws are completely different from the American bear claws which I used to get at Starbucks sometimes. Our bear paws are part of the cookie selection which one prepares during Christmas time.
The only hurdle to make this delicatessy abroad is the cookie mold. But that hurdle was crossed when one of you guys (thanks Dagmar!) told me to use the Madeleine cookie pan
. It works great but I have to admit that you get bear claws that are a big bigger then the traditional ones, probably a size of a real bear claw ;).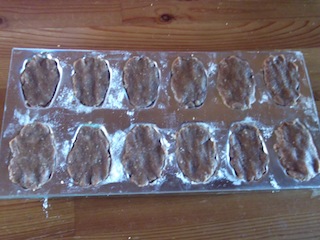 CZ: Pecete na Vanoce Medvedi tlapky? Jestlize ne, protoze jste na ne v cizine nesehnal formicky, vas problem uz je diky jedne z CMD ctenarek (diky Dagmar!) vyreseny. Muzete totiz pouzit formicky na Madeleine cookies
. Sice z trouby nevytahnete tlapicky – tedy ani tlapky – spis tlapy, ale jinak jsou vyborne.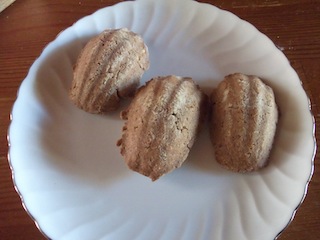 BEAR PAWS/MEDVEDI TLAPKY
– yields about 24 cooies
Ingredients:
12 oz (3 cups; 350 g) of all purpose flour
8 oz (2 cups; 200 g) of ground almonds or walnuts
8 oz (2 cups; 250 g) of soft unsalted butter
8 oz  (2 cups; 250 g) of sugar
ground rind of 1/2 lemon
pinch of cinnamon
pinch of cloves
1 egg
2,5 Tbs (1 1/4oz; 30 g) of cocoa powder
powdered sugar for coating
Method:
Preheat the oven for 350 degrees F.
Grease the Madeleine molds and sprinkle them lightly with flour.
Mix all of the above ingredients together and work into a dough.
Break off small pieces and press into the cookie molds.
Bake in the oven for about 20 minutes.
Coat them with powdered sugar while still hot
Enjoy!
PS: If you  want them to lose their crunchiness and would like to have them on the softer side, let them rest for 2 weeks and it will happen for you. I could not wait that long – my willpower has failed me.
All of the other recipes for Czech Christmas cookies are listed below:
If you liked this post buy me a coffee! (Suggested:$3 a latte $8 for a pound) Thanks!