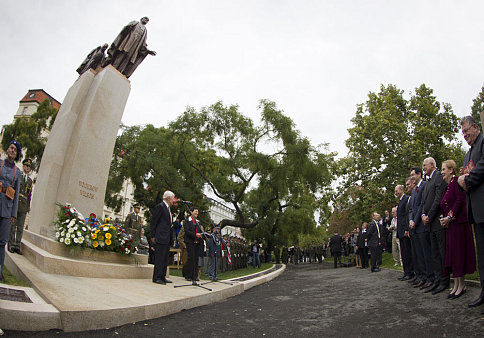 President Woodrow Wilson may not be  the most famous president on the domestic soil but he is a celebrity in the Czech Republic. The main Prague station together with some parks and streets was named after him and now a new statue of him was unveiled in Vrchlicke Sady in Prague (the original statue from 1924 was taken down by the Nazis). The unveiling ceremony was attended by the highest Czech state officials such as the president Vaclav Klaus, the former president Vaclav Havel (it was also his 75th birthday on that day). The former secretary of state Madaleine Albright was also present.
Why such fame? Wilson was considered the foster father of Czechoslovakia for championing (together with T.G. Masaryk) its independence after World War I. The Czechs lost their independence to the Habsburg Empire in 1620 in the infamous Battle of White Mountain. For the next 300 years we were ruled  by the Austrian Monarchy until the end of World War I.
'During World War I, Wilson, a scholarly son of Staunton, Va., recognized Masaryk's government in exile. Masaryk had lobbied for the recognition, pointing out to Wilson, a former history professor, the influence of the Declaration of Independence on Czechoslovakia's founding document. When the war ended, Wilson advocated for the establishment of "small states" from the defeated Austro-Hungarian Empire.'(taken from Washington Post)
In 19 1018 T.G. Masaryk  traveled to the USA where he convinced president Wilson of the rightness of building an autonomic Czechoslovak state. On October 26th 1918 he spoke from the steps of Independent Hall in Philadelphia, as a head of the Mid-European Union. Masaryk challenged the crowd for the independence of the Czecho-Slovaks and other oppressed nations in Central Europe.
'On May 5, 1918 more than 150,000 Chicagoans filled the streets to give a triumphant welcome to Professor Thomas Garrigue Masaryk, the future President of Czechoslovakia. Masaryk was coming from Russia where he helped to organize the Czechoslovak Legion from former P.O.Ws. to fight for an independent Czechoslovak State. Chicago was then the center of Czech and Slovak immigration in the United States and gave Masaryk an enthusiastic reception, echoing Masaryk's earlier visits to the city and his visiting professorship at the University of Chicago in 1902. Prior to 1918 T. G. Masaryk had lectured at the University of Chicago in 1902 and 1907. He also had strong personal links with the U.S. since 1878 through his marriage with an American citizen Charlotte Garrigue and friendship with Charles Crane. Thanks to Crane, a Chicago industrialist, Masaryk was invited to the University of Chicago and introduced into highest political circles, including to Woodrow Wilson.' (taken from Wikipedia)

T. G. Masaryk once said:"The admiration of the people for him (W. Wilson) amounts almost to a hero worship".
After working on this post it is finally completely clear to me that without Americans there would be no Czech Republic or Slovakia.

CZ: Byvaly americky president Woodrow Wilson neni v USA zrovna tim nejznamnejsim presidentem, ale v Cechach si tuto nedostatecnou popularitu vynahradil. Neunavne totiz podporoval sveho pritele T.G. Masaryka v utvoreni samostatneho ceskoslovenskeho statu a za to od ceskeho a slovenskeho lidu dostal prezdivky jako 'obrance demokracie' nebo 'apostol svobody'. Za jeho zasluhy v transformaci rakouske monarchie do autonomnich evropskych statu  mu Karlova Universita udelila v roce 1919 cestny doktorat, jeho fotografie se nachazely na uradech , ve skolach a take po nem dokonce byly pojmenovany parky a zeleznicni nadrazi.
Neni tedy divu, ze nedavne slavnostni odhaleni jeho sochy ve Vrchlickych Sadech bylo velkou udalosti. Slavnosti se zucastnila rada osobnosti jako prezident Vaclav Klaus, Vaclav Havel (ktery v ten den mimochodem slavil sve 75. narozeniny) nebo Madeleine Albrigtova.
Puvodni Wilsonuv pomnik z roku 1928  byval u tehdy Wilsonova nadrazi, sochu ale v roce 1941 ho znicili Naciste. "To, ze se sem pomnik W. Wilsona vratil je symbolicky velmi dulezite," zduraznil Vaclav Klaus. Vztah obou statu prirovnal k "pratelstvi dvou lidi".
Kratce receno, bez neho by zadne Ceskoslovensko (a pozdeji take Ceska Republika) nebylo.
Sources:
http://magazin.ceskenoviny.cz/zajimavosti/zpravy/ve-vrchlickeho-sadech-byla-po-letech-odhalena-socha-wilsona/696419
http://www.state.gov/r/pa/ei/bgn/3237.htm
http://en.wikipedia.org/wiki/Tom%C3%A1%C5%A1_Garrigue_Masaryk
http://www.washingtonpost.com/local/prague-to-honor-woodrow-wilson-with-new-statue-at-main-train-station/2011/09/29/gIQAeghoLL_story.html
If you liked this post buy me a coffee! (Suggested:$3 a latte $8 for a pound) Thanks!