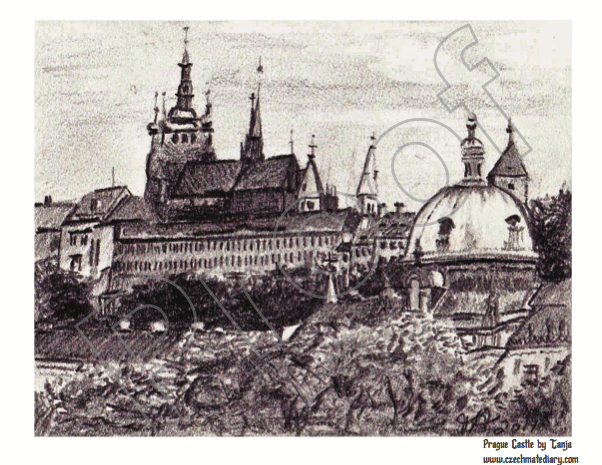 Are you ready to compete and win a prize? The rules are simple: watch the following YouTube video and write down in the comment section what movies are these quotes taken out of. There are a total of 23 movie titles you should come up with.
The winner will get a framed picture of the Prague castle (see the attached image). The picture itself is a copy of the original pencil drawing, which is also available  for sale.

CZ: Jste pripraveni soutezit o cenu? Jestli ano, podivejte se na nasledujici video nejlepsich filmovych hlasek z ceske kinematografie. Na videu je ukazano celkem 23 filmu. Jestlize si myslite, ze muzete prijit na vsech 23 filmovych nazvu, napiste je do komentu a ja je ohodnotim, nebot mam pri sobe tahak :).
A co ze vyhrajete za cenu? Zaramovany obrazek Prazskeho Hradu (viz. foto). Obrazek je kopie originalu, ktery je take k mani.

If you liked this post buy me a coffee! (Suggested:$3 a latte $8 for a pound) Thanks!