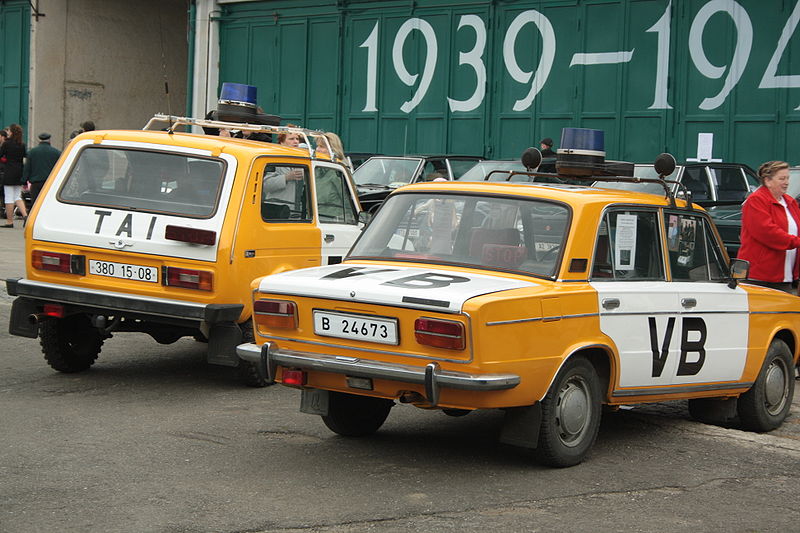 Kolovazy u Prahy (a small town near Prague) recently opened up a new attraction: A Museum of Socialist Vehicles. It exhibits car models made in-between years 1965 and 1988, which makes about 30 different models, mostly Skoda cars but also Romanian Dacias and Ziguliks. The Museum is showing off some Germany models such as Trabant and Wartburg but those are in minority.
The most famous exhibit is Skoda 120L (1986 model), which was owned by the Czech president, Vaclav Klaus himself. It still has the original yellow paint on it and  the hood is glowing with the president's signature. Klaus had a chance to see his old car again after 22 years when he was traveling through the Liberec county this summer.
The coolest thing about this Museum is that one will be able to take those grandpa cars for a drive! They just need to have a bit more cars in stock in order to do that.
If you would like to see more of these cars, click here for a slideshow (it's in the middle of the linked article).

CZ: V Kolovazech u Prahy se otevrelo nove lakadlo pro turisty –  Muzeum socialistickych vozu. Zahrnuje to vsechna vozidla vyrobena mezi roky 1965 a 1988, coz dela zhruba 30 automobilovych modelu, prevazne skodovky, rumunske dacie a ziguliky, ale nechybi zde ani par modelu trabantu a wartburgu.
Nejzajimavejsim exponatem je Skoda 120L z roku 1986, kterou kdysi vlastnil samotny prezident Vaclav Klaus! Ma na sobe puvodni zluty  lak a kapota je ozdobena prezidentovym autogramem. Vaclav Klaus se se svym staryme autem setkal znovu po 22(!!) letech, kdyz toto leto cestoval Libereckym krajem.
Nejlepsi na tomto muzeu je, ze se v nich clovek bude moci v blizke budoucnosti take projet :).
Jestlize mate zajem shlednout vice techto komunistickych vozidel, kliknete zde (slideshow se nachazi uprostred linknuteho clanku).
If you liked this post buy me a coffee! (Suggested:$3 a latte $8 for a pound) Thanks!