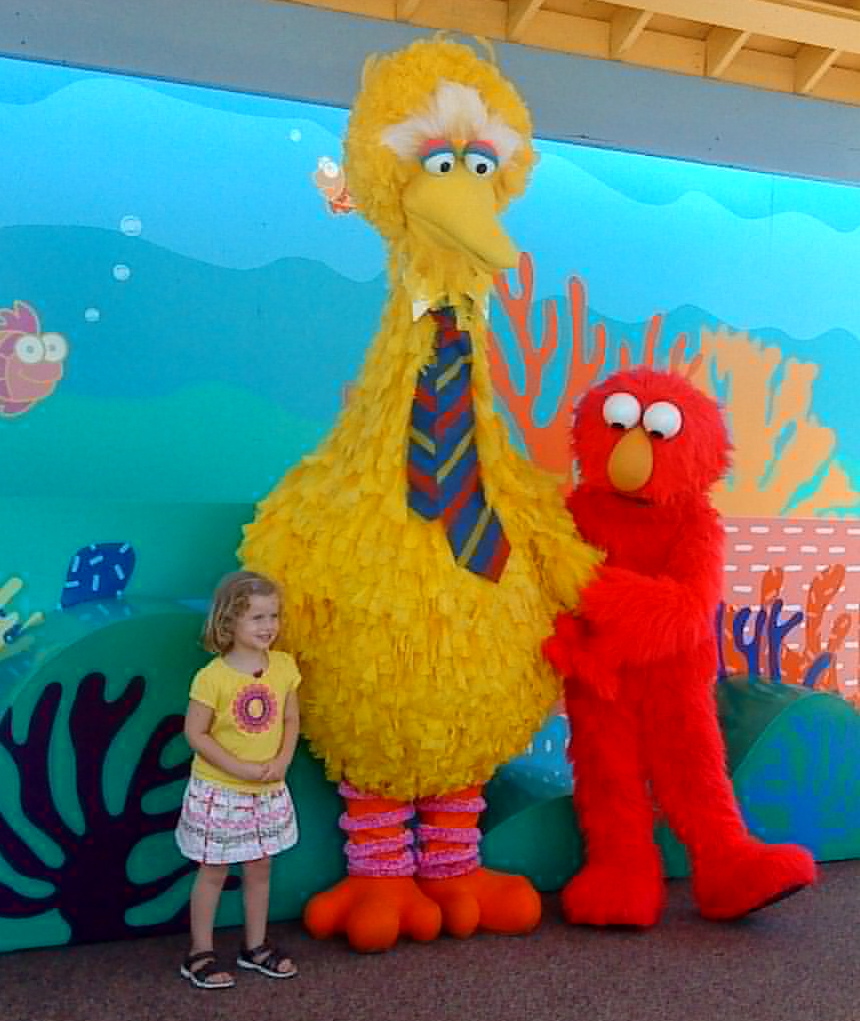 When I was pregnant with Hahna that strange busy-bee nesting syndrome lead me to create this blog (much more productive and fun than  going through some cleaning frenzy :).  It is hard to believe  that I have been writing posts (this will be mine 870th post) for over 4 years and that our Hanicka just recently blew out her 4 birthday candles as well.  This also means that I am due for my regular bilingual update.
Don't worry, you can relax, I will ease your mind and tell you right off the bat that Hahna is doing great! And having an innate critical mind of a Czech you know I would not be saying it if it wasn't the truth.
First of all, about 3 months ago she started asking me  why do we speak Czech. I admit, I was startled by her straight  question and did not know  how to answer  in 1 or 2 sentences, so that a 3-year-old brain could digest it. So I gave her a garden-variety of answers: "Well, because Mommy  is Czech and when we go back to the Czech Republic you will be able to understand and talk to all of the people that live there and do not speak English…And so you can talk to grandma and grandpa on Skype….and knowing 2 languages is very healthy (I don't think she would get the word 'advantageous' )". That's all I could come up with at that moment and hopefully, one of those sentences stuck in her brain as a sufficient answer.
To recap for some readers who don't know our story, I do not follow the OPOL method, which means I do not speak  Czech  to her when our English-speaking family or friends are around (I find it quite rude actually). But since I am at home with her, we end up speaking Czech most of the time and that seems to do the trick because she speaks the language (both languages actually) great. Once-in-a-while she forgets a word and either she says: "How do you say …….  in Czech, mommy?" Or she just says that word in English and then I correct her (I try  to make sure to sound very positive when I do it) and then she usually repeats the Czech word under her breath, probably to see how it sounds from her own mouth, which I find very cute.
Word order in some sentences gives her trouble at times and it comes out in Czech but with an English word order. For instance, she says "O cem mluvis o?" (What are you talking about?) Or she uses the English verb and adds the Czech infinitive ending to it, like "vacuumovat" or "bikovat" or she says something like "Mami, koukni se na ty polkadotty!" And then I usually try to make a joke out of it, like "Polkadotty? Co by to mu rekl cesky Elmo, ty sisko?" (Polkadotty? What would the Czech Elmo say to that, you silly goose?) and then we have a big laugh about it.

Sometimes, when she has a bad day and does not want to play with other kids in the park for example, she gets a bit manipulative and says "Mluv cesky mami, cesky!" so that we can be left alone. But then I gently remind her that it would be rude of us to speak another language when an English-speaking child is trying to communicate with us. And so she switches back to English.
One 'scary' hurdle I came across was when Ava was born. Hahna immediately took up English as their language, which is what I actually kind of expected. But I did try to encourage her to speak Czech to her when there are only the 3 of us (or other Czechs) because I knew that was another opportunity for her (and Ava) to practice the language. If they grow up speaking to each other in Czech – even if it is just sometimes  – then they have someone to practice the language with for a lifetime without feeling awkward or embarrassed to do it.
So I tried to  remind her a couple of times to speak Czech when mommy is around, otherwise 'mommy does not understand'. And the beauty of having a 3-year-old is that is that she takes it as a fact and does not question it. And yes, she does speak to her in Czech now and switches to English when English-speaking family/friends are around. That was a huge victory! I think that if Hahna was 4 at that time, I would not be able to get away with such a poor justification 🙂
There are many things we do to bathe in the Czech language even more and both of us enjoy doing it: we play word games! I strongly recommend it, especially when you are driving in a car:
Jake slovo zacina pismenem 'K'? (What word starts with the letter 'K'? and other letters)….
We substitute different words into the Czech well-known songs to make them sound silly, something like: "Ja mam kone, vrany kone, to jsou kone my…kdyz ja jim dam jetele, oni skacou z POSTELE…" (substitute 'postele'(bed) instead of 'vesele'(happily))….and Hahna finds that quite funny.
She also came up with this one: since she cannot pronounce the letter 'ř', sometimes I cannot understand what is she saying, like the word 'křupka', for example. She pronounces it as 'kupka', which means something like 'a little pile'. So she would be saying the word 'kupka' and I could not figure out what was she was saying. I kept asking her to repeat it, which she did, but she was getting more and more frustrated and mad with me. Then I finally got it, that she wanted more Cheetos-like snacks (which the Czechs call 'křupky)' and then we both burst out laughing about it. So then she would want me to tell her to repeat other words with the letter 'ř' or 'r'.I went through a list of such words like 'krocan' (turkey), kravin (cow stable), 'křižovatka'…and she repeated those words without pronouncing those trouble-causing letters and thought it was the funniest thing ever. And that's our new game now.
Over all, the most important factor for success is for the child and the mom to develop some kind of a baseline, which the child keeps getting back to. For instance Hahna's baseline is that:
most of the time mommy and I speak Czech
I enjoy it
Once she starts going to school she will not be immersed in the Czech language as she is right now and it will be probably harder for her to speak it. The pivotal question is, if she will still enjoy it even though she may have to struggle a little to express herself. I hope she will. I will let you know!
Here are my previous diary stories:
Mommy diary 5: Red, white and bilingual
Mommy diary 4: OPOL can kiss my shorts
Mommy diary 3: I got me a bilingual baby, baby!
Mommy diary 2: Bitter-sweet results so far
PS: Sorry, no time for the Czech translation 🙁
If you liked this post buy me a coffee! (Suggested:$3 a latte $8 for a pound) Thanks!