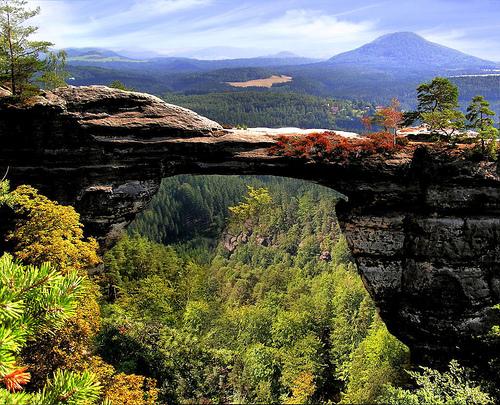 The following list is definitely worth printing out or even memorize if you are planning on visiting the Czech Republic. If you were indecisive about what places to visit, your problem is solved! Here are the top 12 nature landmarks in the Czech Republic. If you want to see a picture of each of them, click here (although the text is in Czech, do not despair,their list has the same number order as mine so go by the numbers). And in case  you want to find out more about these places, just click on each one and it will link you to a more-in-depth resource.
CZ: Novinky.cz zverejnily moc hezky list 12-ti nejkrasnejsich prirodnich zazraku v Cechach. Clovek by si je mel asi vsechny zapamatovat, aby mohl nejenze imponoval sve neceske zname, ale aby je mohl vsechny v tom svem kratkem zivote navstivit a pokochat se jimi!
1. The Southern Bohemian desert in Trebonsko (Poust v Jiznich Cechach)
2.The Prokop Valley (Prokopske udoli)
3. Primeval forest in Beskydy (Prales v Beskydech)

4. Stepni krajina na Vysocine in Trebicsko
5. The biggest Czech waterfall (Nejvyssi cesky vodopad: Pancavsky vodopad)
6. Swamps in Soos reservation (Bahenni mofety)
7. Boubinsky primeval forest in Sumava mountains (Boubinsky prales)
8. Rock Bridge in the Czech Switzerland (Skalni most Pravcicke brany)
9. Tundra in Krkonose moutains (Tundra v Krkonosich)
10. Glacial lakes in Sumava mountains (Ledovcova jezera na Sumave)
11. Secret abyss and series of caves, including Macocha in Moravsky kras (Tajemna propast a system jeskyni v Moravskem Krasu)
12. The windiest Czech mountain – Milesovka (Nejvetsi hora Ceskeho stredohori – Milesovka)
Source: http://www.novinky.cz/cestovani/tipy-na-vylety/231352-dvanact-nejkrasnejsich-prirodnich-zazraku-ceske-republiky.html
If you liked this post buy me a coffee! (Suggested:$3 a latte $8 for a pound) Thanks!