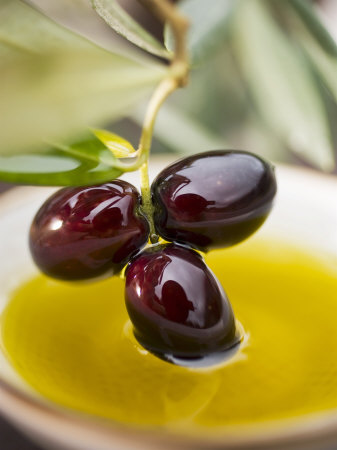 A certain Italian food company made a poll in the Czech Republic regarding the knowledge of olive oil. The results showed that the Czechs don't know its proper usage. Out of 628 participants (15 to 65 years old) more than half thinks that olive oil is good only for cold dishes such as salads. Some of them even do not like the taste of it.
The good thing is that 83% of the Czech population does buy it and uses it. But what is there to know about olive oil that is so important?
A/ you can use it for grilling and frying (it starts to burn at 210 degrees Celsius which is 410 degrees F)
B/ you should store it in darkness
C/ you should store it in temperatures that do not go above 20 degrees Celsius which is 68 degrees F)
(Well, I learned something new, I did not know about the temperature requirements. Excuse me, I got to go now, have to rearrange my kitchen supplies :0)

CZ: Pruzkum italske potravinarske spolecnosti nedavno Cechy uplne zahanbil. Ackoliv je o olivovy olej v Cechach stale vetsi zajem, znacna cast populace nevi, jak ho spravne pouzivat. Ze 628 dotazanych (ve veku 15 az 65 let) se vice nez polovina domniva, ze olivovy olej se pouziva pouze k priprave studenych pokrmu. Nekteri ucastnici dokonce ani nemaji jeho typickou chut radi.
Co by tedy podle Italu meli Cesi o tomto oleji vedet?
A/ muze se pouzivat i na grilovani a smazeni (zacne se palit az pri 210 stupnich Celsia) a nejen k priprave studenych pokrmu
B/ mel by se skladovat ve tme, kde teploty nepresahuji 20 stupnu
Musim se priznat, ze jsem vubec o vyse uvedenych teplotnich podminkach nevedela. Pardon, musite me omluvit, je na case preorganizovat si spiz ;0)

Source: http://magazin.ceskenoviny.cz/vareni/zpravy/pruzkum-cesi-neumi-pouzivat-olivovy-olej/553664
If you liked this post buy me a coffee! (Suggested:$3 a latte $8 for a pound) Thanks!