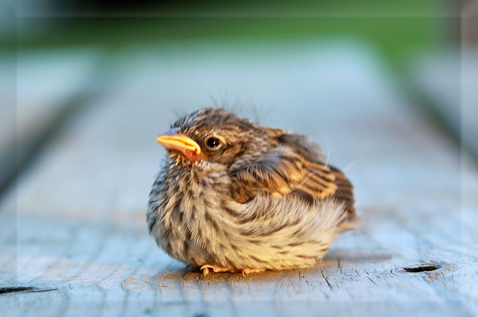 No matter where you live nature inevitably collides with civilization. In California, where I live, we get to deal with stranded coyotes, abandoned hummingbirds, injured seagulls and dolphins. In Czech the mixture is a bit different. In the fall the natural habitat rescue places get packed with different kind of animals. People mostly bring in hedgehogs because they assume there is something wrong with them. "they try to rescue them, but if they left them where they found them, the hedgehogs usually find some place to hide and survive the cold winter months", says the founder of a local Czech rescue station. What an average Czech Joe does not know is that the hedgehog's weight is the deciding factor as far as his health goes. If the mole weighs about 300 to 400 grams then they should survive winter no problem.

The most common injury caused to these animals is caused usually by electric cables, cars running over them or by hunters who shoot them. Most animals make it back into the wild no problem after they have spent some time in the rescue station.
In the spring most people bring baby birds that fell off their nest and that their parents lost interest in them. What people don't know, once again, is that kestrel parents do finish feeding their younglings even if they fall off their nest. "We still nurture them to young adulthood though. We even have a little miniature take-off surface where they can learn how to fly.
The third most common group of patients are birds of pray such as tercel. However, once in a while the usual group of patients gets enriched by some unusual, non-Czech animal such as raccoons, which got let go into the woods by some irresponsible owners.
Sometimes they get in a swan or a ferret with a broken foot, who happened to get tangled into a fishing line.
CZ: Bez ohledu na to, kde zijete, priroda neustale (a nevyhnutelne) koliduje s civilizaci. U nas v Kalifornii jsou to bud ztrozkotane velryby, zabloudeni kojoti, opustena kolibri ptacatka nebo zraneni delfini a racci. V Cechach volaji o pomoc zase jine druhy zvirat. Napriklad na stanici Drosera na Bublave je necastejsim pacientem jezek. "Lide se je snazi zachranit. Ale kdyby je nechali tam, kde jsou, tak oni si vetsinou nekam zalezou a zimu preziji," rika Tomas Smolik, zakladatel a spravce stanice. Vetsina lidi totiz nevi, ze u jezku rozhoduje vaha. Staci, kdyz vazi 300 az 400 gramu a zimu preziji.
Nejcastejsim duvodem, proc se zvirata do zachranych stanic dostavaji jsou urazy z elektrickych dratu, srazky s autem nebo postreleni od lovcu. Vetsina zviratek se ale pomoci chovatelu z nemoci vylize a jsou pusteni opet na svobodu.
Na jare lide v Cechach vozi na stanici nejcasteji ptacatka vypadla z hnizda, ze se pry o ne rodice nestaraji. Ale co vetsina techto ustaranych dorucitelu nevi je, ze rodice malych postolek je sami dokrmi i na zemi. Protoo jich zachrana stanice kazdy rok vykrmi desitky. Maji tam dokonce i malou vzletovou plochu, kde se postolky uci letat.
Treti nejpocetnejsi skupinou pacientu jsou dravci, jako jsou napriklad kanata nebo sokoli. Obcas se do skupinky ale priplete Ceske republice prazvlastni zvire jako je napriklad myval. Nezodpovedni (a znudeni) chovatele je totiz vetsinou vypusti do lesu a myvalum nezbyva nic jineho nez jist z popelnic. Take se tu casto leci nalezena fretka nebo labut se zlomenou nohou, ktere se zamotaly do rybarskeho vlasce.
Source: http://www.ceskenoviny.cz/ekologie/zpravy/pacienty-zachrannych-stanic-nejcasteji-dravci-na-podzim-jezci/556053
If you liked this post buy me a coffee! (Suggested:$3 a latte $8 for a pound) Thanks!