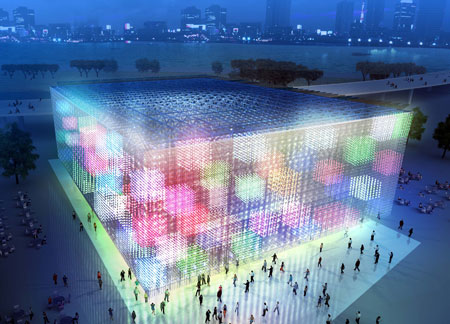 The Czech cultural pavilion in Shanghai (Wold Expo 2010) won a second place for creativity. In fact, the Chinese liked it so much that they bought the whole building for 33 million Czech crowns and now the pavilion is there to stay.
What is so incredibly creative about this building? First of all, one may be pleasantly surprised that the outside is cleverly decorated with thousands of hockey pucks. Among other amazing exhibition the Czech team brought along also the renowned reliefs of Jan Nepomucky's sculpture, which can be normally found at the Charles Bridge.They are known to bring a good luck to whoever touches them, so the Czechs brought a bit of luck with them to Shanghai in order to share some of this Czech blessing.
The most sought after exhibition was a humongous golden tear, made out of aluminum and painted with a real gold. The nearby hidden camera was capturing the face expressions of each visitor observing the tear, meanwhile the computer analyzed all of these captured face expressions, and created a perfume characteristic only to that particular person (actually every 500th visitor was able to receive this one-of-a-kind gift).
The only other country more creative than the Czechs was Slovenia, which took the gold medal. Darn!!

CZ: Cechum se podarilo v Shanghaiskem Expu vyhrat stribrnou medaily za kreativitu. Cinanum se nase vynalezavost dokonce tak libila, ze odkoupili celou budovu za celych 33 milionu ceskych korun!
Co je na ceskem pavilonu tak neobycejne vytvarneho? Zevnejsek budovy je napriklad dekorovany tisice hokejovymi puky. Mezi dalsi lakadla patrily take reliefy zpod sochy Jana Nepomuckeho, ktere si cesky tym privezl jako symbol stesti ze samotneho Karlova mostu.
Nejvetsim hitem se ale definitivne stala tzv. obri zlata slza. Byla vytvorena z hliniku a dodatecne pozlacena. Emoce navstevniku hledicich na tento zvlastni exponat snimal pobliz ukryty pocitac, ktery po vyhodnoceni oblicejovych udaju namichal jednotlivym navstevnikum osobni parfem (jestli tohle neni napadite, tak uz opravdu nevim, co)!
Absolutnim vitezem v kategorii kreativity se stalo Slovinsko.

Source: http://www.lidovky.cz/expo-v-sanghaji-konci-ceska-republika-si-domu-odvazi-uspechy-a-chvalu-1jc-/ln_zahranici.asp?c=A101031_162120_ln_zahranici_ter
If you liked this post buy me a coffee! (Suggested:$3 a latte $8 for a pound) Thanks!