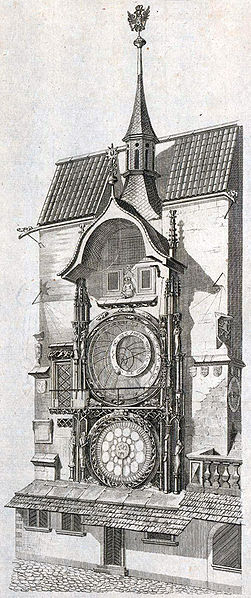 Orloj's 600th birthday was celebrated in style this year. All of the Old Town Square visitors were able to enjoy a 10 minute large-screen video, which was projected on the Orloj's wall itself (see the YouTube video below). "At first we had to take very detailed measurements as well as detailed photos of the building. Then we had to download these measurements and images into the computer and created a 3-D computer model. Then we had to come up with various animations which were projected on this 3-D model and also captured some of the major historical moments in the building's history", explains Tomas Rychecky, the producer of the whole thing.
Let's do a brief history review about this magnificent architectural piece. The Old Town Square clock tower was build by Mikulas from Kadan in the early years of 15th century (September 9th, 1410). The building was greatly improved by Hanus from Ruze, who was supposedly blinded on purpose by the Prague authorities so that he could not build an exact copy anywhere else. Hanus came up with a bitter payback, broke the Orloj's mechanism and no one was able to fix it for a long, long time.
The Orloj's history still has a few secrets up its sleeve, for example, no one knows when did the sculptures of the 12 apostles came to life and who made them.

CZ: Na pocest narozenin prazkseho orloje mohli navstevnici Staromestskeho namesic zhlednout zajimavou videoprojekci promitanou primo na samotne Orlojske steny (viz. nize uvedene YouTube video). Pusbobive tak priblizila historii teto budovy jako byli kuprikladu husitske valky, poprava prazskych panu nebo poskozeni Orloje pri osvobozovani Prahy v roce 1945.
Producent teto projekce je Tomas Rychecky, ktery CTK vysvetlil jeji slozity postup: "Na pocatku se musela zmerit fasada orloje se vsemi jeho prvky. Pote jsme nafotili detailne jednotlive casti. To vse se preneslo do pocitace a vznikl trojrozmerny model, na ktery se pak vytvarely kornkretni animace,".
Pripomenme si, ze Staromestsky orloj byl zhotoven Mikulasem z Kadane jiz pocatkem 15. stoleti (1410, 9. rijna). Pozdeji jej zdokonalil mistr Hanus z Ruze, ktereho nechali podle povesti chudaka oslepit, aby nemohl nikde vyrobit kopii. Hanus ale z pomsty stroj zastavil a hrozilo, ze bude odstranen. Nakonec byl stroj opraven sikovnym hodinarem Ludvikem Hainzem. Tajemstvi ale zustava, kdy se na nem presne objevily sosky 12 apostolu, ktere kazdou hodinu ukazuji ve dvou okencich pod striskou.


Source: http://zpravy.idnes.cz/video-prazsky-orloj-ozarila-projekce-o-jeho-historii-prisly-stovky-lidi-14y-/domaci.asp?c=A101009_211340_domaci_abr
If you liked this post buy me a coffee! (Suggested:$3 a latte $8 for a pound) Thanks!