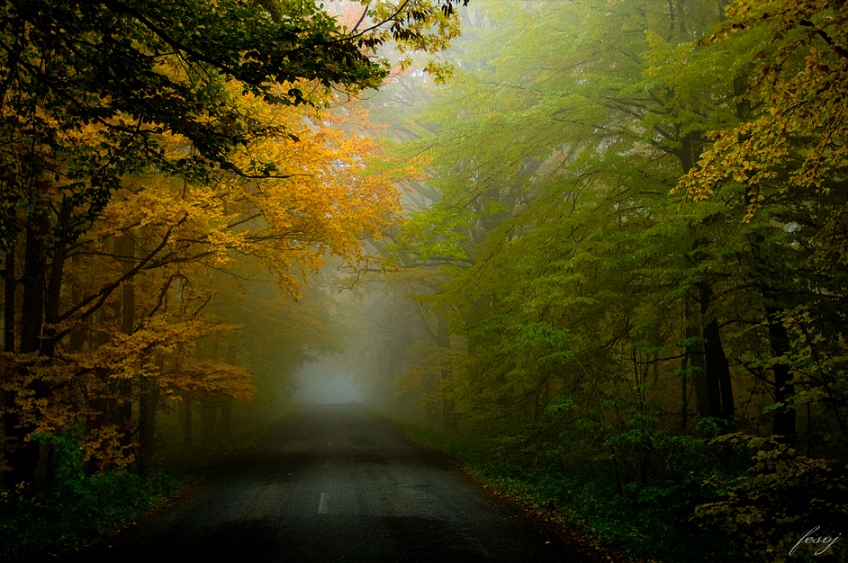 Summer and Fall in Czech and Slovakia are big on fireworks. We bake 'burty' above the fire during both seasons, however, fall becomes much more interesting. Way back when, during the time of potato harvest, the Czech and the Slovak peasants began to put leftover potatoes and apples into the burning ashes of fall campfires which they built to keep them warm at night. Both potatoes and apples were submerged into the smoking ashes completely unpeeled – and were also eaten unpeeled (that's some fiber for ya'!). They also came up with some superstitious songs and rhymes that were supposed to keep the fire burn longer and more efficiently. Here is an example for you (it comes out really funny when translated into English):

"Burn fire, burn, or the skunk will get you. If you don't burn we will throw you into the river. If the black crow comes around, you will burn until the sunrise."
or
"Burn fire, burn and the God Almighty will give you one gros (an old Czech currency) and St. Peter will give you 2 krejcars (an old Czech currency). You will have a lot of money by then! If you don't burn we will tell the chicken on you and the chicken will throw a stone at you and then you will really burn!"

People danced around the fire holding hands and many times the men would dare each other to jump over those – sometimes quite large – campfires.
If you have never had 'brambory ve slupce' (potatoes in skin – cooked in the campfire ashes) I urge you to do that the next time you are burning up a big pile of autumn leaves in your garden. They are the best-tasting potatoes (and apples!) ever! The American-style baked potato does not come anywhere close…..

CZ:
taken from: http://www.ceske-tradice.cz/tradice/podzim/_zobraz=podzimni-ohnicky
Podzimní ohníčky
Podzim na Chodsku býval ve znamení: "Vohníčky ha pečený jabka v kožiše" (Ohníčky a pečené brambory ve slupce). Na podzim, kdy se sklízeli brambory, dělali se na polích ohníčky. Naneslo se suché chrastí, sláma ze strništ a suchá bramborová nať. Všechno se to zapálilo a to bylo všude kouře. Při zapalování ohně platilo pravidlo, že všichni museli být úplně zticha, prý aby oheň snadněji chytil. Aby ohníček lépe hořel, zpívalo se:
"Hoř ohníčku, hoř,
příde na tě tchoř.
Nebudeš-li hořeti,
hodíme tě do řeky,
příjde na tě černá vrána,
budeš hořet až do rána.
nebo
Hoř, ohníčku, hoř,
Pánbůh Ti dá groš,
svatý Petr dva krejcárky,
budeš míti dost!
Nebudeš-li hořeti, povíme to kuřeti,
kuře Ti dá kamenem,
budeš hořet plamenem!
(z Moravy)
Okolo ohníčku se pak skákalo nebo se všichni vzali za ruce a tancovali okolo ohně, někdy ho zas přeskakovali. Potom se přinesli z pole brambory, daly do horkého popela a upekli je.
Slunéčko zachází za hory,
pasáci pečou brambory,
slunéčko zachází za kostel,
pasáci lezou na postel.
(z Táborska)
Úryvek z knihy "Lidové obyčeje a nápady pro šikovné ruce – Podzim"
Zdroj: České tradice, knižní archív České tradice, internet
If you liked this post buy me a coffee! (Suggested:$3 a latte $8 for a pound) Thanks!