Christmas will be here soon and Czechmate Diary is now selling authentic and affordable Czech crystal jewelery! I make it myself as it is one of my (many) favorite hobbies in life. I put a special Czech touch into all of my hand crafted jewelry items and I hope you enjoy wearing them as much as I enjoy designing and making them.
Did you know that the Bohemian crystal  has been around ever since the 13th century? Its history starts with the abundant natural resources found in the rural Czech countryside. The local glass workers discovered potash combined with chalk created a clear colorless glass that was more stable than glass from Italy. It was at that time when the term Bohemian crystal emerged for the first time in history to distinguish its qualities from the glass coming from other places. As opposed to usual perception this glass was non-lead which meant that it could be cut with a wheel. Bohemian crystal became famous for its excellent cut and engraving and it is adored and worked with all over the world including my home.
If you would like to purchase one (or more?) of these pieces just click here. The price for shipping and handling is $3.99 (packaging plus mailing fee) per an item (or per set).
TO ENLARGE AN IMAGE JUST CLICK ON THE PHOTO.
"BLUE LAGOON"
Authentic turquoise Czech bead choker and earrings; sterling silver lobster clasp strung on a durable beading wire made to last forever. Necklace length is 14 inches. The earring are silver fish hook style with a dangle length of 2 inches.The colors are a cheery summer time treat and make a girl feel pretty. – $8.99 earrings, $15.99 necklace, $21.99 for the whole set.
IF YOU ARE INTERESTED IN PURCHASING ANY OF THESE PIECES CONTACT ME HERE (CLICK HERE) PLEASE.
LONG NECKLASES WITH PENDANTS
Beautiful for any kind of occasion! Each necklace has a very unique pendant hanging on a 100% cotton cord and measures about 18 inches from the base of your neck (but the size can be adjusted, just let me know). They are only $12.99 – not a bad deal, especially if you add the 10% CMD subscriber discount.
The Bright Flower
– black and white stones set in a metal flower frame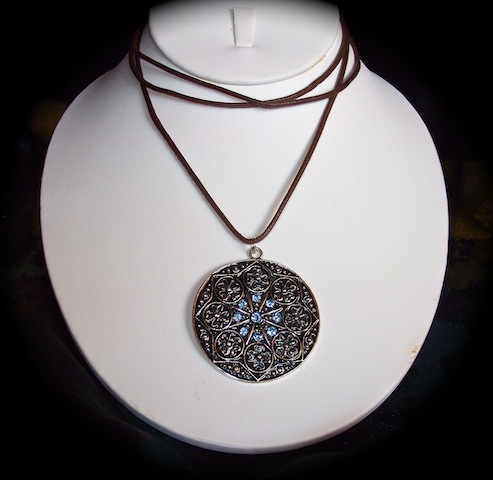 The Seventh Seal
– metal ornament with blue crystals in the center
Clear Geometry
– Glass see-through diamond-shaped pendant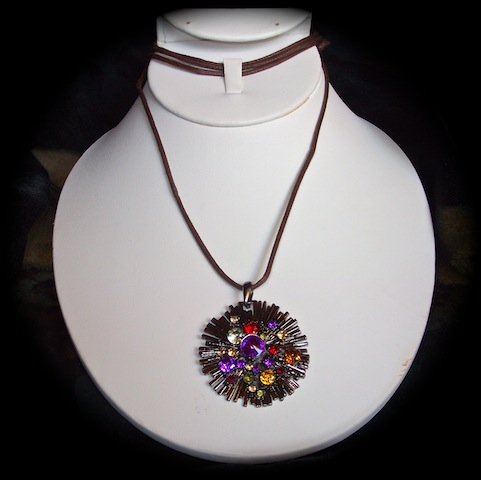 Multicolored dandelion
– metal 3-D flower with multi-colored, multi-shaped crystals
PS: The pendants may of may not be made with Czech crystals, the retailer did not specify it on the packaging.
Also, every item is priced without the shipping cost, which is $3.00 per item.
IF YOU ARE INTERESTED IN PURCHASING ANY OF THESE PIECES CONTACT ME HERE (CLICK HERE) PLEASE.