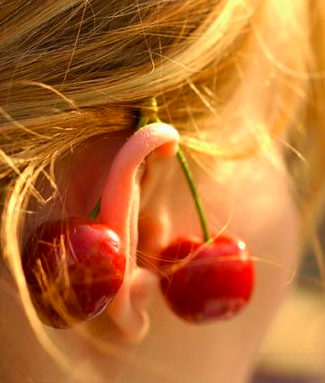 Svěrák wrote a childrens' song that talks about cherry earrings and my daughter and I like it very much. I have explained to her in  great detail what cherry earrings are and was impatiently waiting for the first summer months until cherries finally appear in the stores. Then Hahna could taste them for the first time in her life, but most importantly, she gets to wear the true cherry earrings.
Cherry earrings bring a whole bunch of memories for me. They are the true signature of a Czech summer. How else would you spend a perfect summer afternoon than by sitting high up in a cherry tree, crunching on those big and juicy cherries right off the tree? I don't know how about you but we would usually end up eating way too many of them and then have an upset stomach.
Anyhow, when we purchased our first bag of this summer season, I was kind of disappointed. The cherries were not as crunchy as what I remember them to be from my childhood AND the distributor cut the pairs in half so there was NO WAY one could make cherry earrings out of them! By miracle, I managed to find ONE pair that was left intact and I victoriously presented it to Hahna. I then proceeded to put it on her little ear – it truly felt like a wedding ceremony – the moment felt so significant for both of us!
I also tried to teach her the art of eating cherries. To me it comes as  second nature (maybe like when Americans are eating sunflower seeds; they also de-seed them like they were some kind of a super-efficient processing machinery). I just put one in and a few seconds later spit out completely naked, shiny seed. I thought this eating process was encoded in everyone's genes but I was wrong. My good American girlfriend proved me wrong. When I saw her eating her cherry the other day I found out something new. Since she was not very used to eating cherries, she just ate them like a little apple, taking little bites all around the seed until there was nothing left but the seed (not very shiny, mind you). And it seems that Hahna prefers this way much more than mommy's 'barbaric' way of spitting out the seeds right after you put a handful of them in your mouth. I guess it is more efficient but not very lady-like ;0)
CZ: "Naausniceee z tresniii, tresnoveee naaausniceee…" zpiva Sverak v jedne ze svych hitovek venovanych detem. Nam se s Hanickou tato pisnicka moc libi a rady ji poslouchame hlavne za jizdy v aute. Jelikoz Hanicka jeste tresne nikdy nejedla (jsou ji skoro 3 roky), samozrejme ani netusila, co to tresnove nausnice vubec jsou. Jenom je hrozne chtela. Dopodrobna jsem ji vysvetlila, co jsou vubec zac a netrpelive jsem cekala na prvni letni mesice, az se nam tresne objevi v mistnim nakupnim stredisku. Tesila jsem se, az se Hanicka zakousne do prvni lahodne tresinky a hlavne az ji povesim na ouska prave tresnove nausnice…to bude fesanda!
Tresnove nausnice mi hrozne pripominaji me detstvi. Pro mne jsou ten pravy symbol ceskeho leta. Jak jinak byste stravili to nejperfekntejsi letni odpoledne, nez vysedavanim nekde vysoko ve stare tresni a trhanim obrovskych, stavnatych krupek primo ze stromu? My jsme se jich s kamaradama vzdycky hrozne prezrali a pak nas cely zbytek dne bolel zaludek.
Nedavno jsem v mistnim nakupnim stredisku nakoupila prvni balik dosti drahych tresni a byla jsem z nich docela zklamana. Nejen ze nebyly tresne krupave, ale se mily pan dodavatel se rozhodl vsechny tresnove pary roztrihnout napul, tudiz tvorba jakychokoliv tresnovych nausnic byla jaksi v cudu. Jakymsi zazrakem se mi podarilo jeden neporuseny par najit a hned jsem ho musela vitezne prezentovat Hanicce. Slavnostne jsem ji tyto velevzacne nausnice nasadila na jeji malinke ousko – obe jsme byly v jakemsi svatecnim tranzu. Ona, protoze poprve nosila prave tresnove nausnice (nebo spise jen jednu nausnici) a ja, protoze se mi timto podarilo prezentovat vzpominky a tradice meho detstvi.
Druha vec byla, jak naucit Hanicku one tresne vlastne papat. Odjakziva jsem si myslela, ze pozrivani tresni musi mit kazdy clovek automaticky zakodovane v genech (neco jako kdyz Americani louskaji v puse ty jejich podivna slunecnicova seminka). Ale chyba lavky! Tento fakt jsem si potvrdila u jedne z mych americkych kamaradek. Pozorovala jsem ji, jak ji tresne a jelikoz toto ovoce je pro ni take dosti nevsedni (vyrostla v Kalifornii, tresne se sem dovazeji z jinych statu, tudiz jsou vzdycky trosku drazsi), ji je s jakousi obezretnosti: okusuje totiz tresen jako kdyby to bylo malinke jablko, az do te doby, nez z tresne zbyde jen pecka. Ja, na druhou stranu, jsem zvykla dat si jich par do pusy, mechanicky je v puse zubami oholit a behem nekolika sekund vyplivnout naprosto ciste, blyskajici se pecky. Pravda je, ze Hanicka preferuje americky, tzv. obezretny styl pozrivani tresni. Asi je to tak lepe, on ten muj styl asi neni zrovna vzorny priklad slusneho stolovani ;0)

If you liked this post buy me a coffee! (Suggested:$3 a latte $8 for a pound) Thanks!