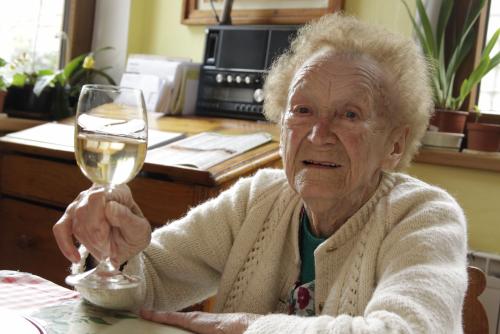 Julie Vasickova from Prusanky is officially the oldest person in the Czech Republic. She recently celebrated her 107th birthday and she is still kicking with a full force. Not only does she walk around (including the stairs!) and reads the morning paper,  but she enjoys her daily glass of wine!
Mrs. Vasickova was born 1903 which means that she remembers two Austrian emperors and all of the Czechoslovak/Czech presidents. She is the oldest of all of her 10 siblings, and the last one to get married. As a young maid, Julie opened up a grocery store and her busy lifestyle did not allow her to have time for men. When she married her husband at 35 they took care of their store together until the communist took it away from them (the store was nationalized under the name "Jednota"). Even after that she stayed faithful to her profession and worked at a grocery store until she was 65 and then she retired (1968). Today her daughter takes care of her, who often chastises her about resting a little more.
When asked about her 'mirracle' diet, Julie answered: "Oh, I eat everything. My favorites are Tatranka (Czech waffle) and bread with some butter and honey. I also love a good soup."
So you tell me, how many salads this person had in her lifetime; probably no too many…and she is 107 years old!!!!!
If you understand some Czech you MUST watch the video in the original article (scroll in the middle of the article). She is the CUTEST lady I have ever seen!

CZ: Julie Vasickova z Prusanek na Hodoninsku oficialne tou nejstarsi osobou v Cechach. Tuto sobotu totiz oslavila 107. narozeniny a ve zdravi se tesi na dalsi leta. Krome vyborneho zraku a pameti ji take jeste slouzi nohy (chodi jeste po schodech!) a rada se napije vinecka.
Jubilantka se narodila v roce 1903, coz znamena, ze si pamatuje dva rakouske cisare a vsechny ceskoslovenske a ceske presidenty. Byla nejstarsi z 10-ti sourozencu, ale svatbu mela jako posledni. Vyucila se totiz prodavackou a otevrela si maly kramek –  nemela cas na vdavky! Pozdeji ale take nasla sveho prince a vedli obchod spolu. Po druhe svetove valce jim obchod komuniste vzali a do kramu se nastehovala Jednota. I presto Pani Vasickova zustala prodavackou az do svych 65ti let, kdy sla do duchodu (1968).
Dnes o ni  pecuje dcera, ktera ji casto kara za prilisnou cilost. Kdyz byla optana, jakou 'zazracnou' dietu vlastne vede, co myslite, ze rekla? "Ja jim vsechno. Nejradsi mam Tatranky a veku s maslickem a medem. Take mam rada dobrou polevku." No, tak vidite, to by me zajimalo, kolik salatu tato zena v zivote mela. Asi ne moc, a jeji 107 let!!!
Opravdu se MUSITE podivat na toto video, aby jste poznali pani Vasickovou. Je to vskutku ta nejrostomilejsi stara pani, jakou jsem kdy videla! Kliknete zde, video se nachazi v polovine clanku.
Source: http://magazin.ceskenoviny.cz/zajimavosti/zpravy/nejstarsi-ceska-oslavi-107-narozeniny/473276

If you liked this post buy me a coffee! (Suggested:$3 a latte $8 for a pound) Thanks!