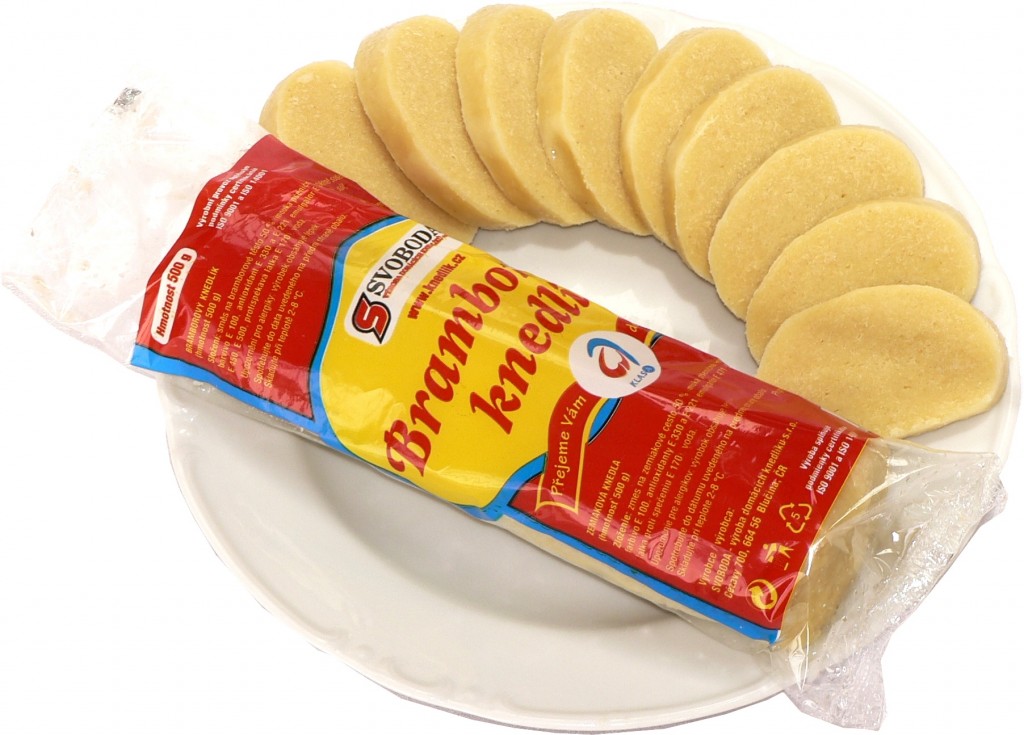 One of my dear readers was very kind and sent me her  recipe for POTATO DUMPLINGS. The are more dense than the regular bread dumplings but equally delicious. I love them both but I know some Czechs prefer those way over the bread dumplings.
CZ: Jedna moc hodna ctenarka se s nami podelila o jeji domaci recept na bramborove knedliky a vyresila tak naprostou ZAHADU, jakou mouku na tento recept pouzit: smichejte farinu/semolinu a wondru!
PS: Recept na houskove knedliky muzete najit zde.



Ingredients:
3 cups of cooked, diced and unpeeled potatoes (600 g); use

baking potatoes

since they have the biggest amount of starch in them
1 egg
1 egg yolk
1 cup of Wondra flour (100 g)
1 cup of semolina or farina flour (krupice)
pinch of salt
Method:
For best results cook the potatoes the night before you are planning on making the dumplings. Peel the potato skins while the potatoes are hot.
Next day shred the potatoes, add the egg and the yolk together with flour, semolina and salt.
Knead it into a dough
Divide the dough into 2 parts and make two loaves out of it, about 2.5 inches (6 cm) thick.
Carefully put the 2 loaves into a pot of boiling water and cook for 5 minutes.
Turn the loaves and cook them for 10 more minutes. Make sure they do not stick to the bottom of the pot
Pull  the loaves out of the water, cut them up into 1-inch thick circles and serve. Use regular sewing thread for the cutting process.
Dobrou chut!
If you liked this post buy me a coffee! (Suggested:$3 a latte $8 for a pound) Thanks!