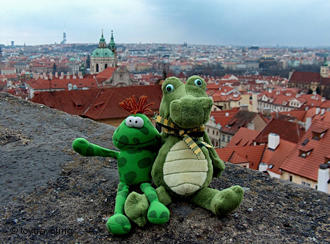 You are not going to believe this. A certain Prague traveling agency is launching world's first holidays for stuffed animal toys! For only 90 euros (and up) you can send your favorite teddy bear for a week trip to Prague. You know how boring it is for him to sit in the same bed for years? The poor thing wants to live a little too!
So once you send your dear one off to Prague you get a daily e-mail updates from him with pictures attached: teddy at the Prague Castle, teddy sitting by the Jan Hus statue at the Old Town Square, teddy having a typical Czech dinner…..
The creator of this 'teddy bear tourism' is a half-Czech, Prague-based enterpreneur, Tomio Okamura. "There are 1.2 billion teddy bears around the world, which is of course a very big group of potential clients," says Tomio.
The agency has received already about 50 bookings in the first week since the agency went public.


CZ: Tomu nebudete verit! Jedna prazska cestovni agentura se rozhodla poradat  zajezdy pro plysove hracky! Za pouchych 90 Euro muzete poslat sveho milacka (ktery se mimochodem zatim NUDI na vasem gauci) na krasnou dovolenou do Prahy! Kazdy den take obdrzite emailem novinky o jeho zazitcich, ktere bodou zdokumentovane fotkami v priloze: meda beda na Prazskem hrade, meda u pomniku Jana Husa, meda pochutnavajici si na tradicnim ceskem jidle….
Tvurce tohoto napadu je Cecho-Japonec Tomio Okamura, ktery jiz v Praze jednu cestovni agenturu vlastni. " Na svete je kolem 1,2 bilionu vycpanych hracek, coz je samozrejme obrovska skupina potencialnich zakazniku," rika Okarmura.
Jiz prvni tyden po otevreni prodala agentura  kolem 50 zajezdu.
Source:
http://www.dw-world.de/dw/article/0,,5318689,00.html
http://www.radio.cz/en/article/126602
If you liked this post buy me a coffee! (Suggested:$3 a latte $8 for a pound) Thanks!