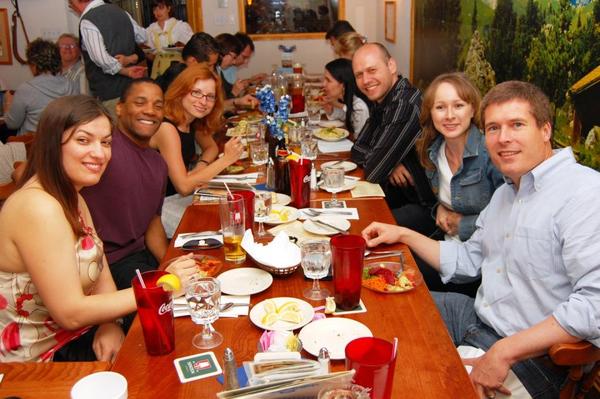 Peter Petrik was featured on these pages in relation to his presentation "From Behind the Iron Curtain to Membership in the European Union". Thanks to that initial contact we were able to connect for a short interview about his life and the Czech and Slovak community in Dallas, TX.
CZ: Peter Petrik byl na techto strankach uvedeny jiz jednou a to ve spojeni s prezentaci "Od Zeleznej Opony k Clenstvu v Europskej Unii". Petra jsem pote zkontaktovala a vytvorili jsme spolu  kraty rozhovor o jeho zivote v USA a  jak se ma ceska a slovenska komunita v Dallasu, kde Petr nyni zije.
1) Peter, how did you come to the USA?
I came here to study. I left Slovakia in 1993 when the situation was not the most stable. I didn't want to start in a place with so much uncertainty. Once I got my bearings in the US after a few months, it was clear to me that I wanted to stay and build my personal and professional life here.
2) What type of career do you have right now?
I definitely have a non-traditional combination. I teach international business and global strategy at the University of Texas at Dallas. I also offer keynote speeches and workshops. Finally, I advise small- and medium-size businesses on operational efficiency. Most entrepreneurs and business owners are very good at what they do. It is not always like that with running the actual business, developing new business opportunities, or technology aspects. In such instances, I implement systems that simplify company operations and allow the owner and managers to focus on the core competency of the business.
3) How did you find Czech and Slovak community. Was it hard?
Certainly, before internet, it was much harder. Truth be told, I wasn't looking much for a community at that time – I wanted to perfect my English language, and I knew speaking Slovak was not going to be helpful. After some time I met a few people and started organizing meetings. I've lived in California, New York City, Dallas, Michigan, Phoenix – and I always looked for ways to meet with people from Czech Republic or Slovakia. I am always glad to connect others and facilitate new friendships or business contacts.
4) How many members does your group have?
Currently I help organize meetings in the Dallas area through Meetup. There are about 75 members, and we frequently find new ones. Attendance depends on the type of event – sometimes we have 10 people at a dinner event, other times for a camping trip over 25. Not long ago we had a dinner at a German restaurant where we filled a whole room – there were nearly 50 people!
5) How often do you meet? What kind of events do you organize?
We meet about every 6-8 weeks. Often, we go out for dinner, but we've had a poker night, catamaran sailing brunch on a local lake, ice skating, and many other activities.
Thanks so much for your time!
********************************************************************************************************************

1) Jak si se Petre vlastne dostal do USA?
Prisiel som za skolou. Ked som odisiel v roku 1993, situacia na Slovensku bola dost nejasna. Nechcel som zacinat nieco, kde by perspektivne uplatnenie nebolo mozne. Ked som sa v USA po par mesiacoch rozhliadol bolo mi jasne, ze tu chcem ostat a vybudovat si zivot a karieru.
2) A co v Americe delas?
Urcite mam netradicnu pracovnu kombinaciu. Ucim medzinarodny obchod a strategiu na University of Texas at Dallas. Poskytujem v odbore aj prihovory a prednasky. A takisto robim poradcu malym a stredne velkym firmam v oblasti organizacneho pristupu. Vacsina podnikatelov a majitelov firiem je dobrych v urcitom odbore, ktory tvori napln firmy. Nie vzdy je to tak aj s vedenim firmy, vyvojom novych moznosti, alebo technickej zabezpecenosti. V takej situacii dokazem poskytnut systemy, ktore chod firmy zjednoduchsia a majitel s manazermi sa mozu sustredit na ich forte.
3) Jak se ti podarilo najit CS komunitu? Bylo to tezke?
Pred tym, nez bol k dispozicii internet to bolo ovela tazsie ako dnes. Po pravde povedane, zo zaciatku som komunitu ani nehladal – chcel som sa dobre naucit anglictinu, a vedel som, ze slovenska rec by mi v tom nepomohla. Po case som ale na ludi natrafil, a potom som organizoval stretavky. Byval som v Californii, New York City, Dallas, Michigan, Phoenix – a vzdy som vyhladal a stretol sa s Cechmi aj Slovakmi. Som rad ked mozem spojit ludi a vytvorit pre ucastnikov nove priatelstva alebo obchodne kontakty.
4) Kolik vas ted ve skupine vubec je?
Momentalne pomaham organizovat stretavky v oblasti Dallasu cez Meetup. Je tam prihlasenych asi 75 clenov, a k tomu casto najdeme dalsich. Zalezi aj na druhu akcie – niekedy mame na vecernej stretavke 10 ludi, inokedy na camping ide aj vyse 25. Nedavno sme mali veceru v nemeckej restauracii, kde sme zaplnili celu miestnost – prislo takmer 50 ludi!
5) Jak casto se schazite? A co vetsinou delate?
Stretavame sa vacsinou kazdych 6-8 tyzdnov. Vela krat ideme na veceru, ale mali sme aj poker night, catamaran sailing brunch na jazere, korculovanie, a vela dalsich aktivit.
Diky moc za rozhovor!
If you liked this post buy me a coffee! (Suggested:$3 a latte $8 for a pound) Thanks!