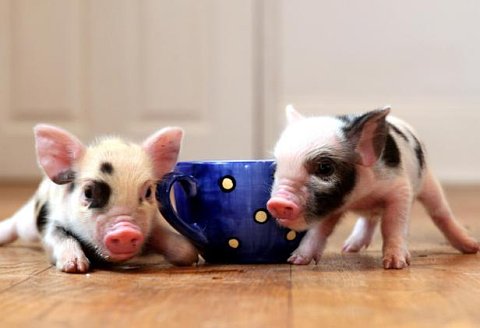 You can get this miniature pot-bellied pig  (also called a "Tea-cup pig") for 500 to 5,000 Czech Crowns, depending on their size. The smaller they are, the more expensive they get. Yet the price did not stop them to be one of the new favorite pets in the Czech households. They are supposed to be smart, affectionate and very clean! Watch the video below:
CZ: V Cechach se tyto miniaturni prasatka prodavaji za 500 az 5,000 Kc s tim, ze mensi prasatka jsou drazsi. Chrochtajici milacci tam jdou jako na dracku, stali se totiz novym oblibenym zvirecim mazlickem v ceskych domacnostech. Divite se? Maji pry byt velmi chytri, pritulni a take cistotni! Podivejte se na nize uvedene video:


Source: http://www.radio.cz/en/article/123632
http://latimesblogs.latimes.com/unleashed/2009/10/teacup-pigs-micropigs.html
If you liked this post buy me a coffee! (Suggested:$3 a latte $8 for a pound) Thanks!