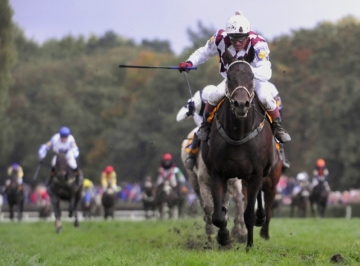 One of my friends recently enlightened me on some major Czech news regarding Czech horse racing. I have to admit,when she told me, I was staring at her like a deer in headlights, completely embarrased that this news has escaped to me. Good thing that I got such good, well-informed friends! The 119th Velka Pardubicka, ran on October 11th of this year, will be marked as one of the greatest ones in history. The winner became Josef Vana, at 57 the oldest proffessional jump jockey in the world. Vana has won the Pardubicka 5 times previously as a jockey and the 6th time as a trainer. Before this victory he considered his 1997 victory on Vronsky his greatest."The year before I was diagnosed as clinically dead for 15 minutes after a fall at Baden-Baden…I lost 3 quarters of one lung and broke some ribs on my right side", recollects Vana.
One of the standing jokes has been Vana's yearly announcement of retirement. Will he retire this time? "Maybe, maybe not", he said, meaning 'never say never'.

CZ: "Vis, ze Vana zase vyhral Velkou Pardubickou?" zeptala se me  nadsene jedna z mych kamaradek. Zahanbene jsem priznala, ze o tom nic nevim. Alespon ze mam tak dobre informovane kamaradky, ktere me z meho ignoranstvi mohou zachranit! Vitezem 119. rocniku Velke Pardubicke se stal kun Tium s 57-mi letym zokejem  Josefem Vanou – nejstarsim prosesionalnim 'jump' zokejem na svete – ktery v teto soutezi triumfoval jiz poseste. "Me nejvestsi vitezstvi jsem pred dneskem povazoval dostihy v roce 1997. Rok pred tim me ambulanance prohlasila klinicky mrtvym po dobu 15-ti minut pote, co jsem spadnul z kone v Baden-Badenu….Kolapsovalo mi trictvrte jedne plice a zlomil jsem si par zeber", vzpomina  Vana. Na otazku, jestli Vana konecne hodla odejit do – jim  mnohokrat slibovaneho – duchodu, s usmevem odpovedel: "Mozna ano, mozna ne."
Source:
http://www.sportovninoviny.cz/zpravy/velkou-pardubickou-vyhral-tiumen-s-josefem-vanou/402098&id_seznam=
http://www.telegraph.co.uk/sport/horseracing/6299556/Josef-Vana-adds-to-his-incredible-haul-of-victories-in-Velka-Pardubicka.html

If you liked this post buy me a coffee! (Suggested:$3 a latte $8 for a pound) Thanks!