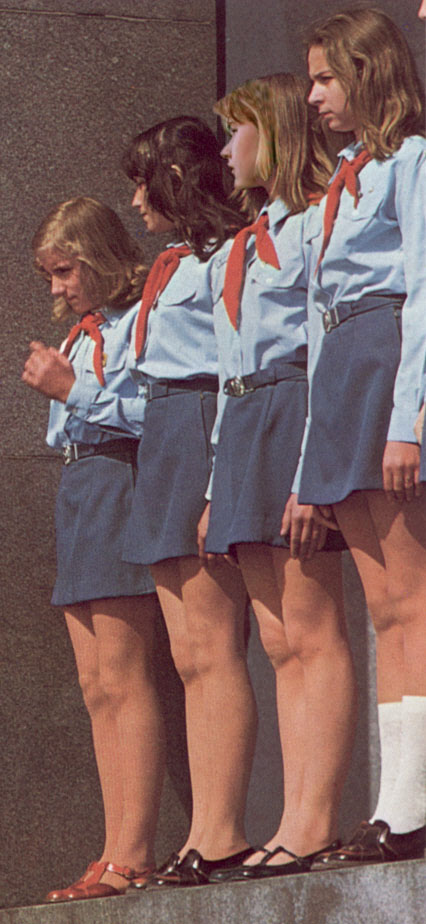 This one will make you laugh. The attachment bellow is a short article taken from a Czech magazine for children, written in 1960 (during  deep communism). Here is the translation:
"When you, my little pioneer, are going to be 30 or 35 years old, you will wake up into the world which will be completely different from today. The communist comrades in the USSR and in our country will have available many automated factories, agricultural jobs will be done through various industrial ways and we will work 6 hours a day. At this time our discovery crew will be reaching the deepest parts of space. All these great things will have a great impact on our everyday life: 250 million tons of steel, the abundance of all appliances, free public transportation, free food at the school and factory cafeterias, living in huge appartments free of charge, free or very inexpensive vacation trips and so on. This in not a beginning of some science fiction story in our magazine, it is a realistic 20-year program of the Communist party, something which is talked, written and thought about all over the world. The capitalist fame is quickly fading. After all, in 10 years the USSR will exceed the United States 2 and half times and in 1980 we will be ahead of the US in 10-folds. It is so beautiful to live in such world!
Everyone needs to give a hand! Learn and work. Not only at school but also outside of school, such as in pioneer brigades or other special groups. Communism needs brave and honest men and women, who know how to live in a society and for a society."
—————————————-
Man, did I oversleep something?!!!!! (wrote the person that emailed us this article)

CZ: Tento clanek vas opravdu rozesmeje! Pamatujete si na casopis ABC? Toto byste v nem nasli v roce 1960: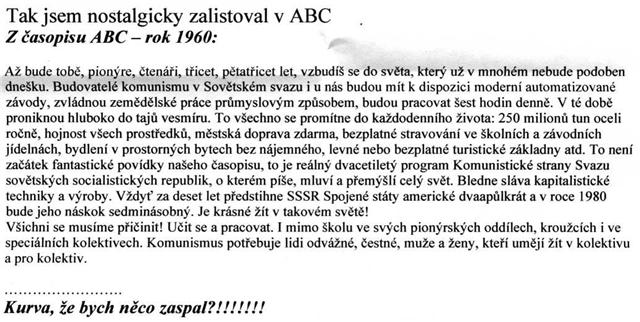 If you liked this post buy me a coffee! (Suggested:$3 a latte $8 for a pound) Thanks!