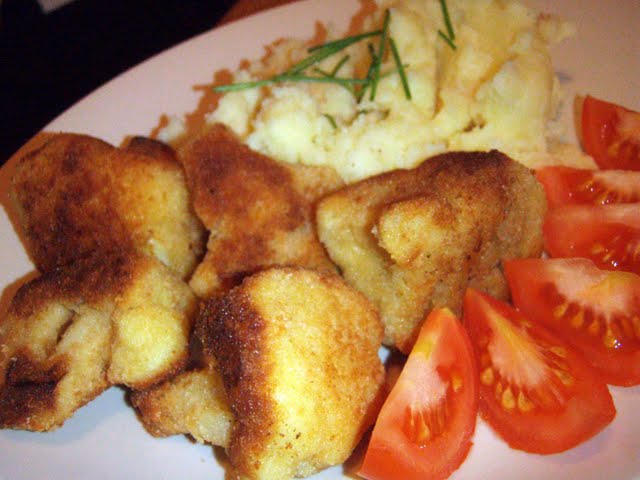 In today's globalized world some 'ignorant' soul might call this dish a vegetable tempura. But we, the experienced cauliflower-lovers know, that it is not just some kind of an appetizer. When served with a side dish – like the mashed potatoes for example – breaded (or 'fried') cauliflower is a delicious main course!
CZ: V dnesni globalizovane spolecnosti muze nejaka ta 'ignorantska' duse nazvat smazeny kvetak 'vegetable tempura'. Samozrejme ze my, zkuseni kvetakovci vime, ze smazeny kvetak neni jen nejaky predkrm. Kdyz se totiz serviruje s brambory, je z toho velmi chutna a syta vecere!

Ingredients:
1 cauliflower head
1/2 cup flour
3 eggs, beaten
3/4 cup bread crumbs (plain)
salt
oil for frying
Method:
Wash the whole cauliflower head
Cook it in boiling water until slightly tender (about 5 minutes)
Pull it out, let it drain and cool down
Cut the cauliflower head into 1-inch thick slices or divide it into separate flowers
Sprinkle cauliflower with salt
Bathe every piece in four, then eggs and finally in bread crumbs
Fry each piece on oil until golden on all sides
Serve with boiled or mashed potatoes and a salad
If you liked this post buy me a coffee! (Suggested:$3 a latte $8 for a pound) Thanks!