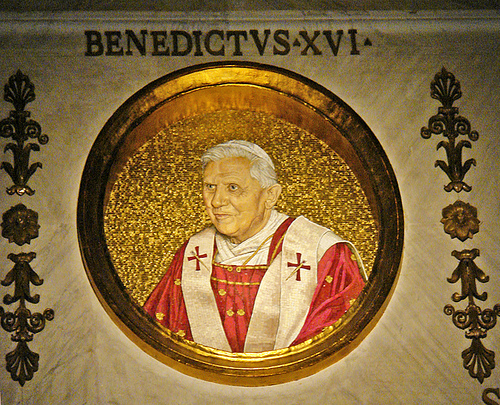 Pope Benedict XVI. is getting ready to visit the Czech Republic. The trip is scheduled for Sept. 26 – 28th and it is to include the visit of Prague, as well as Brno and Stara Boleslav, where he will participate in celebrations commemorating the national patron, St. Wenceslaus. Although the Czech Republic is only 27% Catholic there will be other nationalities present, such as the Polish, Hungarians and the Slovaks, to help fill in the potentially embarrassingly small crowd.
You can read more about his visit right here (click here).
CZ: Papez Benedikt XVI. se chysta do Cech. Navsteva je planovana na posledni tyden v zari a papez ma behem te doby navstivit Prahu, Brno a Mladou Boleslav. Chce tak s ceskymi katoliky (pouze 27% cele ceske populace) oslavit den Svateho Vaclava. Vetsinu casu ale ztravi na Morave, kde je – jak je dobre znamo –  vice vericich nez v Cechach. Fandicim ceskym katolikum prijdou na pomoc take polsti, slovensti  a Madarsti katolici, takze v Cechach bude pekne rusno 🙂
Vice is o papezove navsteve muzete precist  zde (kliknete zde).
If you liked this post buy me a coffee! (Suggested:$3 a latte $8 for a pound) Thanks!