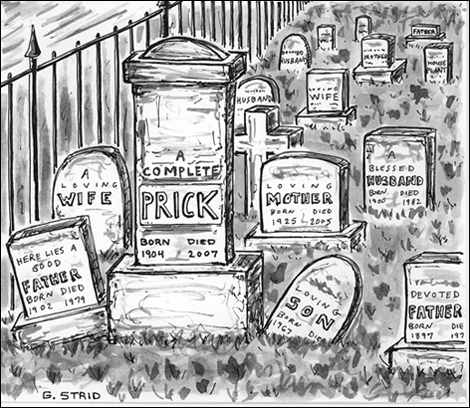 "Why should I spend money for a funeral if my dead relative can't give me anything in return?" That is the current Czech attitude toward their deceased relatives, says David Stejskal, a local grave digger. He also says that the moral in the Czech Republic is decreasing every year which goes hand in hand with a loss of respect for the dead. Many relatives just pay the necessary fees for the person to be buried but no ceremony is being held. Some people even refuse to bury them at all and in that case the state has to take care of the body and pay for the funeral itself. Last year the government had to pay over 2 million crowns just for these unclaimed burial fees.
"About 4 years ago I dealt with a mother who was not interested in burying her 12-year-old disabled daughter', says Stejskal. The secretary for the funeral bereau Mr. Hajek blames this embarrassing problem on the fact that for many Czechs death is something tabu and no one likes to talk about it (or think about death) in the first place. It depends on the region though; people in Moravia are more religious then in Bohemia and they tend to be more responsible and respectful about funerals.

CZ: "Proc vydavat penize na pohreb ci nahrobek, kdyz nam mrtvi jiz nic nedaji?" To je pry podle hrobnika Davida Stejskala dnesni postoj ceske spolecnosti k pohrbum. Tento mravni upadek a neuctivy pristup k mrtvym si vysvetluje hlavne tim, jak buji konzumni spolecnost. Mnoho pozustalych bud zaplati jenom za pohrbeni a ne za obrad anebo se k neboztikovi vubec neprihlasi a pak za to musi zaplatit stat. V minulem roce musel zaplatit za pohrby pres 2 miliony korun!

"Pred 4 lety jsem zazil pripad, kdy matka nemela zajem pohrbit svoji 12-ti letou postizenou dceru", rekl Novinkam Stejskal. Tajemnik Sdruzeni pohrebnictvi Josef Hajek ma za to, ze nezajem o pohrby souvisi s tabuizaci tohoto tematu, a to jiz od dob socialismu – lide o smrti neradi mluvi a neradi si ji pripousti. Zalezi ale take na tom, odkud clovek pochazi. Napriklad na Morave je vice vericich lidi nez v Cechach, a tudiz maji vetsi uctu k zesnulym.
Source: http://www.novinky.cz/domaci/177256-ucta-cechu-k-mrtvym-upada-stale-casteji-odmitaji-pohrbit-pribuzne.html
If you liked this post buy me a coffee! (Suggested:$3 a latte $8 for a pound) Thanks!