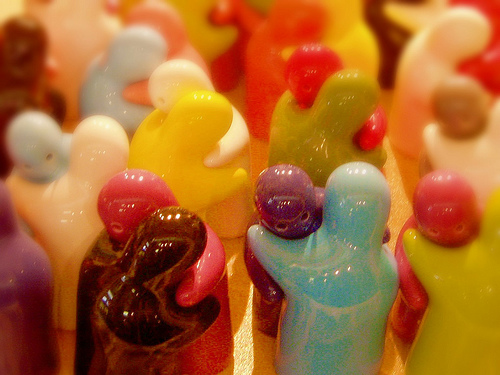 MaryLena is a very lovely lady who agreed to share one of her emails she wrote to me in the past. She and her husband are a die-hard travelers who have traveled all over the world, including the Czech Republic. Many years ago her family was also kind enough to host an exchange student from Japan who has become like a son to them. Here is one of her wonderful stories about Akira' culture shock with America. Since it is about hugging – and most Czechs would much rather shake hands – I thought I would share it with you:
CZ: MaryLena je jedna fanjova pani, ktera s manzelem procestovala cely svet, vcetne Ceske republiky. Dovolila mi, abych jeden z jejich emailu (adresovanych mne) publikovla, protoze se mi opravdu moc libil. Zabyva se totiz tematem kulturniho soku a to objimani (misto potrasani si rukami), tedy neco na co vetsina Cechu neni moc zvykla:

Dear Tanya,
I have one funny story I will share with you which was the real beginning of our awakening to cultural differences.
Our oldest son brought home his college roommate "for dinner". During the course of the evening, he explained that Akira's family would have to restrict their funding of his education to address some health issues of his father. (Both Akira's parents were children in Hiroshima when the atomic bomb was dropped. Both were left with lifelong injuries to their internal systems and Akira's daughter has a mutation to one kidney which we believe goes back to her grandparents' early exposure to radiation.)
Our son suggested if Akira could live with a family, work parttime, and attend a community college instead of continuing in a residential private college, he would have a better chance of finishing his education before the funds ran out. We agreed and he stayed three years.
When he had been with us about three months, he asked Dave, Jr why we did not respect him or trust him. Dave was shocked. He responded, "They've given you keys to everything they own! Why would you think they don't respect you or trust you?"
Akira's answer was priceless. He said, "Well, everytime I come into the house the hug me. Everytime I go out they hug me and if I get too close in between, they hug me again even in front of my friends! And, when I leave the house, they always say, 'Be careful'. What am I doing wrong?"

Dave, Jr. explained that we are huggers and getting hugged is a risk you run in our family. Akira told him that in Japan you don't hug people when non family members are present. You don't even touch them after the age of four!!
Dave also explained that when we said, "Be Careful", it was just a family code to remind you that you are loved, you are cherished.
So the four of us sat down together. We made a deal that if there were non family members present, we would restrain our touching and hugging but there it was just family, you take your chances. Further, as far as the "be careful", he had to choose between that and "I love you". So, we alternated "be careful" with "remember, you're an Anderegg".
But it was strange how differently we viewed those two simple situations.
The followup to all that is when we arrived in Japan ten years ago to visit him, he greeted us at the airport with arms wide open, grinning from ear to ear. He hugged us right there in the airport and whispered in my ear, "Mom, look how western I still am!"
Before we went to Prague we were told it was rude to point with a single finger. We saw an extraordinary example of the difference in a lovely guide we had at the Hall of Mirrors. He was so wonderfully gracious to our little group but every gesture was with all four fingers extended and it really was a much more graceful way to draw our attention to something.
If you liked this post buy me a coffee! (Suggested:$3 a latte $8 for a pound) Thanks!