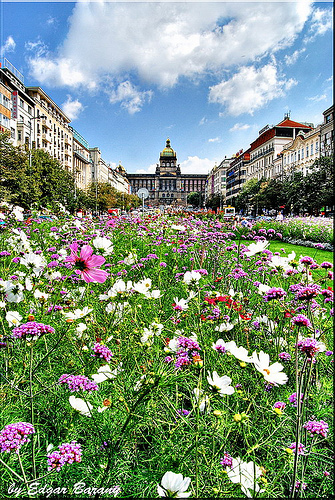 Everyone would agree that Wenceslas Square is a Prague's signature landmark. Many important historical events took place there, the good ones as well as the not-so-good ones. Who else can give us the best authentic outlook on this place than someone, who has been living there for close to 70 years? From her apartment window Vera Korbelova has seen it all: German occupation, burning of Jan Palach (1969), building of a metro station (1972) as well as the horrendous freeway which runs right across the Wencselas square, and of course, the Velvet Revolution in 1989. Now she is 74 years old and this what she says:
"During the last 20 years, Wenceslas Square has changed a lot. It's not only the promenade, a walking area for the foreigners, but there are funny shops that weren't there before, there are casinos, which we hate, there isn't a normal bakery, for instance, and there was a beautiful bakery here at the middle of Wenceslas Square. There are a lot of tourists here, a lot of drug dealers just on the corner here, who we are afraid of. I hope the whole situation will become better. They plan to bring more greenery, they plan to put more trees, and maybe my grandchildren will see in the future, another, more beautiful place. But still, it is the place I am living and I love to live. I think Wenceslas Square is one of the most beautiful places and squares I have seen in my life, and I have seen a lot of them."


You can read the whole article here (click here).
CZ: Kazdy vi, ze Vaclavske Namesti je stredobodem Prahy. Nejen ze je to jedna z hlavnich historickych pamatek, ale take je to stredobod veskereho historickych deni. Kdo by mohl byt lepsim pruvodcem, nez nekdo, kdo na tomto namesti zil skoro 70. let? Vera Korbelova se nastehovala do jednoho z techto bytu, kdyz ji bylo pouhe 4 roky. Byla tedy svedkem nemecke okupace, upaleni Jana Palacha (1969), stavby stanice metra a ohyzdne dalnice a samozrejmne take ze sveho okna pozorovala Sametovou revoluci v roce 1989.
"Za poslednich 20 let se Vaclavak hrozne zmenil. Nenen ze to je promenada pro turisty, ale take se tam objevily nove, podivne  obchody a kasina, ktere s manzelem nesnasime; neni tu zadne normalni pekarstvi jako tu v minulosti byvalo. Hned pod nasim oknem se pohybuje spousta turistu a prekupniku drog, kterych se bojime…Ja jen doufam, ze ta situace zlepsi. Planuji tu zasadit vice zelene…snad se toho moji vnukove nekdy doziji. Ale i pres vsechny prekazky, Vaclavske namesti je muj domov a myslim si, ze je to jedno z nejkrasnejsich namesti na svete…a ja jsem tech namesti videla v zivote dost."
Cely clanek si muzete precist zde (kliknete zde).

If you liked this post buy me a coffee! (Suggested:$3 a latte $8 for a pound) Thanks!