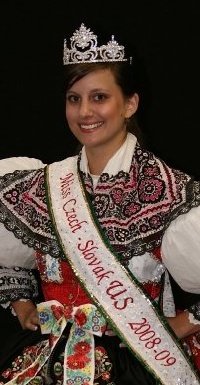 A beautiful Sandy Ptak doesn't just have a Czech herritage in her (hence her last name 'Ptak', meaning 'bird' in Czech) but she also won the Miss Czech Slovak US for the year 2008-2009. She has been enjoying her queen days very much but the time is running out for her as the new miss is going to be elected in about a month or so during the famous Wilber Czech Festival in Nebraska (August 1st and 2nd). I did manage to get in touch with her just in time to do a short interview about her experience of being a Czech/Slovak queen in the US (by the way, she speaks fluent Czech!):
CZ: Krasna Sandy Ptakova nema jen ceske prijmeni, ale stala se take Ceskou/Slovenskou Miss US za rok 2008-09. Poslednich 11 mesicu si uzivala 'kralovskeho' zivota, ale cas uz se ji krati – 1. srpna se totiz na znamem ceskem festivalu ve Wilber, NE bude volit nova CS kralovna, ktera slavnostne prevezme zezlo na pristi rok. Sandy ale bude nadale sedet na trune neco pres mesic, tak jsem s ni stacila v rychlosti udelat rozhovor, aby jsme se dozvedeli, jaky ten kralovsky zivot vlastne je (jo, a abych nezapomnela, Sandy mluvi plynne cesky!!):
1) Tell us a little bit about yourself. I already know that you are a 1st generation Czech and that you speak fluent Czech – that's great! How did your parents ended up in the US? Were you born here? How was your upbringing?
– I am a fist generation American, born and raised in Anchorage, AK. My parents escaped Communist Czechoslovakia in 1980 and got to Alaska six months later in 1981. We have lived in Alaska the entire time we have been in the U.S. and I am so happy that we did. We never lost touch of our Czech heritage and we hold traditions by speaking Czech at home, cooking Czech foods, polka dancing and traveling to Europe to visit family among other things. In just a few months, I will be graduating from Portland State University with a double major in International Marketing and Management.

2) How did you like the Miss Czech-Slovak US experience? I read that for the talent part of the show you sang Celine Dion's song "I drove all night" in Czech (!!), that's great! Where did you get the translation?
-So far, this year has been amazing. I am not finished with my reign and I still have a few events to attend and partake in that will complete my year. There are many events I would have like to attend but was unable to. After I hand over my crown, I will continue to be a part of the Miss Czech-Slovak US pageant by volunteering at Czech Days, recruiting candidates, and attending events. Yes, I did sing "I Drove All Night," by Celine Dion, in Czech. Karel Gott, probably the most famous male pop star in the Czech Republic did a version of the song from which I changed it from masculine to feminine language and also changed some of the lines to more accurately represent the English version. I wore a black evening gown for the performance. It was a risk singing a pop song at the pageant as it is not the most common thing to do. Most contestants do something more traditional and have a second kroj, not modern gown, as their costume. My risk paid off and I was not only crowned the National Queen, but the Grand Talent Winner, the Oratory Winner and Miss Congeniality.
3) You also met the president of the Czech Republic, Vaclav Klaus, as well as the Czech ambassador, Peter Kolar. How was that? Did you get to talk to them for long? How did they seem to you? And did you talk to them in Czech?
-Yes, I met them both as well as several member of their staff. We all spoke Czech, at least for most of the time. I only met the President once and it was for a minute or so while photographers were taking photographs so we did not have much of an opportunity to talk. I have met and spoken with Petr Kolar several times and he is a very kind and outgoing person. We stayed in touch this year and in May I was invited to help host the European Union's Open House in Washington, D.C. Unfortunately, he was called away to the Czech Republic the day I arrived. However, his staff were all wonderful, kind and helpful people. I stayed at Nora Jurkovicova's home, who was a judge at my pageant. I had a wonderful time and that was one of my favorite events this year. Next week, June 28th, the Ambassador, his wife and two of his staff will be coming to Alaska to attend an event and I am very much looking forward to seeing everyone again.
4) Have you been to Czech yet? How did you like it? Did you find anything surprising about this country?
-Of course! My entire family except for my parents are still in the Czech Republic. It is great to have friends and family there that I can visit. They are all in different places so I always get an opportunity to see a good portion of the country when I am there. The only thing surprising about Europe is that you have to pay to use the restroom. It's awkward paying to do that and having someone count toilet paper squares and handing them to you without gloves. Every place has its quirks, so other than that, the Czech Republic is another home to me. It is a beautiful, amazing place full ever history and wonderful architecture every place you turn. You can find modern arts and babicky, grandmothers, that still wear dresses every day and hang their cloths on a line. The food is incredible, especially the chocolate, and salami, and everything else. I can't wait to go back!
4) You are currently double majoring in business management and marketing at the university in Oregon. Are you planning to connect these majors with your Czech roots in some way? Possibly get a job in the Czech Republic?
– I am double majoring in International Marketing and Management at Portland State University. I would love to be able to travel to the Czech Republic for work! For now, I need a resume builder and am looking for a job in the Portland Metro Area. I actually live in Sherwood, so I commute to school. Eventually, I think it would be great to be an Honorary Consul, but usually those people are 40 and older it seems, so I would like something in the mean time.
Thank you!
Tanja
If you liked this post buy me a coffee! (Suggested:$3 a latte $8 for a pound) Thanks!