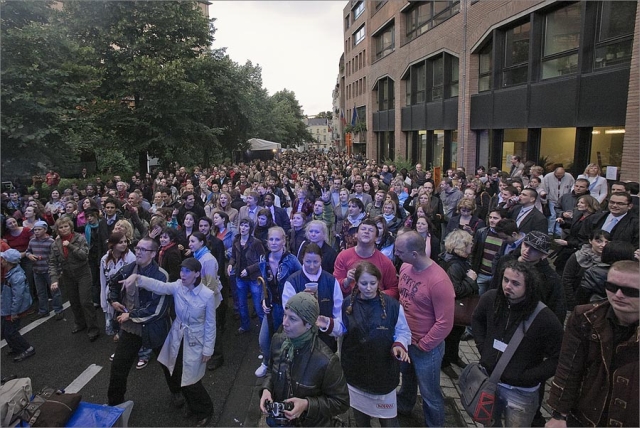 Yesterday evening the Czechs finished their 6-month chairmanship to the European Union (the time sure flew by quickly!). The Czech government put on the last cultural event (in this case it was a party) out of the 700 other events that were held during their 'reign' over Europe. At first the party was supposed to be out-of-this world show at the main Brussels square but thanks to the world wide recession the Czechs decided to settle for something less grandiose and moved it over to the little more ordinary Carol Street. About 6000 visitors flooded this street and danced to the grooves of Czech bands such as Clou, Mig 21 and Krystof. Many of them were holding a Czech wine in one hand and a slice of traditional Czech cheese or salami in the other. And of course, the biggest line was registered at the Czech beer stand.
"This place looks like the Matejska Fair (classic Prague fair that happens every fall)! Something that Brussels is experiencing for the first time..", commented one of the members of the Cloe band into the microphone (and he was probably right, Belgium is most likely still recovering from a party that was done Czech-style ;0).

CZ: Cesi vcera symbolicky ukoncili sve 6-ti mesicni predsednctvi v Evropske unii a to prostrednictvim zive burselske party. Je to tak posledni party ze zhruba 700 kulturnich  akci, ktere Ceska vlada usporadala v souvislosti s ceskym predsednictvim.  Nejdrive to melo byt grandiozni pozdvihnuti na samotnem hlavnim bruselksem namesti, ale diky nynejsi hospodarske krizi se Cesi 'uskromnili' se zaplavenim ulice Caroly.  Kolem 6000 navstevniku se vlnilo k  hudbe ceskych kapel jako je Mandrage, Clou, Mig 21 a Krystof, popijelo ceske pivo a kostovalo ceske syry a salamy. Nejvetsi fronta se se samozrejmne utvorila u stanku na pivo.
"Vypada to tady jako na ceske matejke pouti! To asi Brusel jeste nezazil," komentovala do mikrofonu rokova kapela Clou (no, to ma Clou asi pravdu.;0).

Source:  http://magazin.ceskenoviny.cz/zpravy/cesi-zakoncili-predsednictvi-v-eu-divokou-street-party/385121
If you liked this post buy me a coffee! (Suggested:$3 a latte $8 for a pound) Thanks!