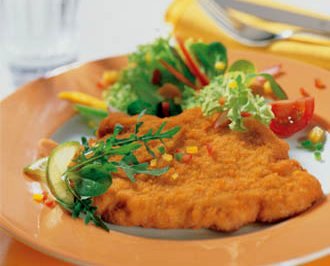 Rizky (Wiener Schnitzel) may be a traditional Austrian dish but it definitely belongs to the Czech and Slovak cuisine as well. The original Austrian Schnitzel is made from veal but most Czechs make it from pork or chicken. It is usually served with mashed or boiled potatoes or one just makes a plain bread-n-schnitzel sandwich from it. Who does not remember a schnitzel sandwich from his school days? Whether  you went on a long school bus trip or for a tremendous mountain hike, guess what you had in your lunch bag? A schnitzel sandwich wrapped in a dump paper tissue, which meant that you spent about a half an hour peeling it off of the poor schnitzel before you actually took a bite :0).
CZ: Recept na rizky jsme sice ukradli od Nemcu, ale i pres to je neodlucitelnou soucasti ceske a slovenske kuchyne. Kdo by si nepamatoval Vanocni kureci (!!) rizek s bramborovym salatem?? Nebo veprovy rizek s chlebem a horcici? At to byl skolni vylet, nebo turisticky vyslap na Snezku nebo autobusovy zajezd do Jugoslavie, hadejte, co bylo k obedu? Rizek s chlebem zabaleny v papirovem ubrousku!!!…a pak jste samozrejme stravili pul hodiny odlupovanim onoho vlhkeho, ulepeneho ubrousku z nestastneho rizku…



Ingredients:
4 boneless, skinless chicken breast halves (about 1 and 1/2 lb)
2 eggs
1 Tsp salt
2 Tbs all-purpose flour
1/2 cup dried bread crumbs
1/2 cup vegetable oil
salt and pepper
Method:
Place the breasts between 2 sheets of plastic wrap and pound them with wit a meat pounder until they are about 1/2 inch thick.
Dust each breast lightly with flour.
In a bowl, beat the eggs with 1 Tsp of salt and 2 Tbs of water.
Dip the meat patties into the egg mixture so that they are evenly coated with it.
Roll them in the bread crumbs to coat.
Warm the oil in a deep frying pan over medium heat.
Cook the breasts in the oil until golden, 3-4 minutes each side.
Season to taste with salt and pepper.
Serve with mashed or boiled potatoes or potato salad.
Dobrou chut!!
If you liked this post buy me a coffee! (Suggested:$3 a latte $8 for a pound) Thanks!