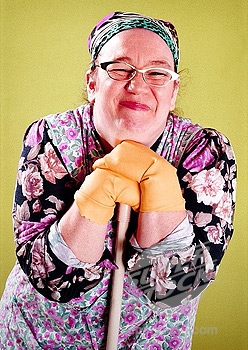 Since house-cleaning is a huge business in the US I was wondering how many of you, Czech and Slovak ladies, hire (or would hire) a house cleaning lady? If you have not been brought up in Czech or Slovakia let me give you a little bit of a background on this situation. Back when I was a child everyone cleaned their house himself – there was no question about it. Having a cleaning lady coming to scrub your toilets meant that you were either really rich (which was unlikely) or there was something physically wrong with you (sickness, injury, old age). If you were to suggest those services to some woman during those years she would probably laugh at you and said something like: "What? Are you crazy? Why would I let some stranger in the house AND pay him money, if I can do that stuff myself?".
I haven't heard of such 'magical' services until I came to the US and I have to say I was kind of apprehensive of it at first. And I admit, I would still probably not hire any cleaning help just because I am a stay-home mom (and also a blogger!!) and I have more time to clean than someone who works full-time. But also, if someone were to clean my house, I would probably end up feeling bad for that lady the whole time she was there, wanting to help her! You know what is the worst about this whole business? Some of my American friends do use house-cleaning services  and they actually clean before the cleaning crew comes so that they would not feel embarrassed about their 'real' mess!!! Now, what is the point of that?? Just clean the whole house when you are at it!!

Anyway, share your opinion in the poll bellow and/or comment bellow the post:

Loading ...
CZ: Jelikoz jsou uklizecske sluzby v USA velmi zadane, zajimalo by me, kolik z vas, ceskych a slovenskych maminek zijicich v zahranici, zamestnava (nebo by zamestnalo) uklizecku, ktera vam pravidelne uklizi dum. Musim se vam priznat, ze ja jsem o techto 'kralovskych' servisech nemela ani tuseni az do te doby, kdy jsem prijela do Spojenych statu. To vite, v Cechach neco takoveho nebylo vubec k videni, vsechny zenske na ten svuj tip top uklizeny domecek byly pysne a ani je nenapadlo, ze by si domu privedly nejakou 'cizi osobu' a jeste ji za to PLATILY (!!) – to proste neprichazelo do uvahu.
Ale i ted bych s tim asi mela problemy; hlavne protoze jsem 'zena v domacnosti' (ale taky blogger!!) a mam o trosku vic casu na uklizeni, nez nekdo, kdo pracuje na plny uvazek. Ale i kdybych si nekoho az najala, tak si myslim, ze bych si celou tu dobu co tam ta pani smrdli houbickami, pripadala divne a vinne. Vite, co je na tom ale to nejhorsi? Vetsina lidi (vim to od mych Americkych kamaradek, ktere uklizecky maji) uklizi pred tim, nez samotna uklizecka vubec prijde! Tak proc neuklidit cely dum, kdyz uz jsme u toho??
No, nic, vyse je uvedena anketa, ve ktere muzete vyjadrit sve pocity (a samozrejme, ze uvitam vase komenty):
If you liked this post buy me a coffee! (Suggested:$3 a latte $8 for a pound) Thanks!